An inverter generator electronically suppresses the engine up and down to meet demand instead of running full tilt all the time. The resulting increase in efficiency means that you won't have to fill up the gas tank as often. The best Inverter generator also produces lower emissions and is generally very quiet.
Inverter generators are the most convenient portable power source due to their portability, stable power, and efficiency. They are useful in many situations due to their lightweight nature and quiet performance. We're here to help you in your search for the best inverter generator 2021.
Best Inverter Generator
Champion 100520 8750-Watt Inverter Generator
Briggs & Stratton P3000 Inverter Generator
Briggs & Stratton P4500 Inverter Generator
Champion 100519 6250-Watt Inverter Generator
Westinghouse WGen9500DF 9500 Portable Generator
Briggs & Stratton P2200 Inverter Generator
Champion 100573 4000-Watt Inverter generator
Champion 100402 2000-Watt Inverter Generator
Pulsar G2319N 2,300W Inverter Generator
Champion 100692 2000-Watt Portable Inverter Generator
"We wind a simple ring of iron with coils; we establish the connections to the generator, and with wonder and delight we note the effects of strange forces which we bring into play, which allow us to transform, to transmit and direct energy at will." —Nikola Tesla
1. Champion100520 8750-Watt Inverter Generator
Best Inverter Generator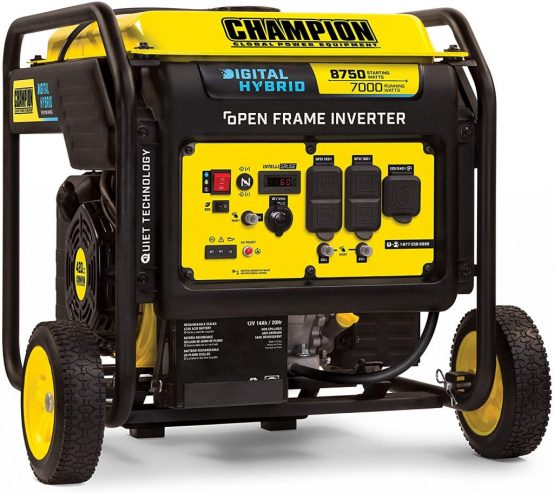 The Champion 7000 Watt Generator is an open-frame digital hybrid inverter with Quiet Technology for 30% quieter operation and Push Button Electric Start. It features a long run time, an economy mode to save fuel, and clean power for the most sensitive electronics, power tools, or large appliances. It is excellent for power at a remote cabin, running power tools wherever you need them, or backing up a few essentials during a power outage.
Design:
An innovative open-frame design reduces the generator's overall footprint and weight (25% less than comparable portables) while reducing the noise level to 72 DBA–a 30 percent improvement compared to most portables. This quiet and lightweight inverter generator is a cost-effective power solution wherever you need it.
Fuel consumption:
The Champion 7000 Watt Generator provides 7000-Running Watts and 8750 Starting Watts to power tools and appliances. With a full tank of gas, Champion's 420cc engine runs for 10.5 hours at 25% load on a 4.2 gallons fuel tank. It requires 1.2 Quarts of 10W-30 Oil (not included.) A low-oil shut-off sensor prevents engine damage, and the Quick Drain oil tube makes changes easy.
Power:
The 7000 Watt Generator has enough power for large appliances like air conditioners, microwaves, and space heaters. Equally important, the inverter generator provides clean energy with less than 3% total harmonic distortion. Outlets include the 30-Amp 120/240-Volt Twist Lock, four 20-amp 120-Volt GFCI Household outlets, a 12-Volt DC Automotive outlet with battery charging cables a dual USB Adapter.
Warranty:
The 7000 Watt Champion Generator is CARB and EPA compliant for use and sale in all 50 states. It includes the 7000 Watt inverter generator for the house, Never-Flat Wheel Kit, Dual USB Adapter for the 12-Volt outlet, battery charging cables, and an oil funnel. Purchase 10W-30 oil separately. Champion includes a 3-Year Limited Warranty and a lifetime of expert technical support.
Features & Specifications
The Champion Power Equipment 8750-Watt Digital Hybrid Open Frame Inverter Generator is 30% more peaceful and 25% more volatile than a traditional 7000-watt portable generator. Powering your life brings on an entirely new meaning with our feature-packed, innovative technology, and purpose.
We cut the noise in half by integrating Quiet Technology's digital inverter elements. Then, we designed an efficient mechanical design to minimize the overall footprint and weight by 25 percent. With a smooth, light-weight, and cost-effective power resolution, this Digital Hybrid inverter is more modest, more peaceful, lighter!
Enjoy on/off push-button power by electric start, battery added, plus Cold Start Technology guarantees a quick start in cold weather.
The Intelligence monitors voltage, frequency, and working hours with ease.
Champion's reliable 420cc engine delivers 8750 starting watts and 7000 running watts and continuities for 10.5 hours at 25% load while the 4.2-gallon fuel tank is ample.
This inverter has a sound level of 72 dBA from 23 feet, which is a bit more emphatic than a vacuum.
This unit holds 1.2-quarts of oil (approved 10W-30) and emphasizes a low oil shut-off sensor and a Quick Drain oil tube for slight changes.
Confidently connect your delicate electronics since our hybrid designs only Clean Power (less than 3% THD).
Our Quick Touch Panel allows fast access to controls. At the same time, Economy Mode monitors power consumption in real-time to reduce the electrical load, implementing quieter operation, extended engine life, and higher fuel economy.
This inverter's covered outlets include a 120/240V 30A locking terminal (L14-30R), four 120V 20A GFCI guarded household outlets (5-20R), and a 12V DC automotive-style outlet with a dual USB adapter and battery-charging cables.
The foldaway holder and never-flat tires secure transport and accommodation a cinch.
Purchase this fully assembled EPA certified and CARB compliant inverter with certainty – Champion Support and our nationwide service centers system will back up your purchase with a 3-year limited warranty and FREE lifetime technical support.
Pros
Affordable
The ergonomic noiseless design
Uses battery-powered remote starter
High efficiency
Dependable performance
Decent output. ​
Efficient and low noise levels.
Cons
Portability is an issue.
The fuel tank could have been designed better
Lacks 240-volt receptacles
The fuel tank is hard to fill.
2. Briggs & Stratton P3000 Inverter Generator
Best Inverter Generator For Home Backup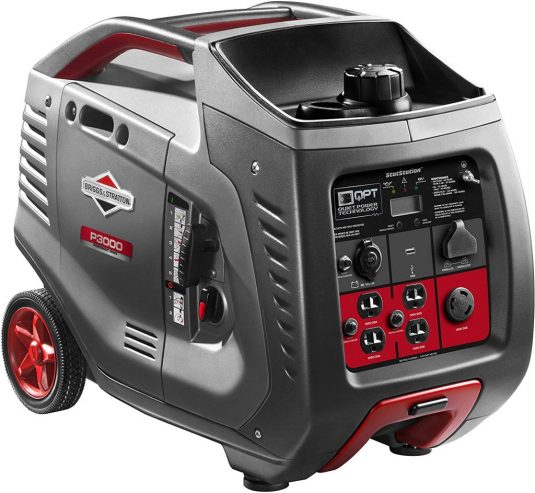 Briggs & Stratton PowerSmart Series is an effective inverter portable generator tough enough to power all virtual devices you may need and even the AC of a small-sized RV. It highlights a pull start that mostly operates on the first try. It can work on both quarter load and half load, allowing for efficient burning of the fuel. It also assists in increasing the running cycle on the identical tank of fuel. Briggs & Stratton PowerSmart Series is adequate to meet most of the RV user requirements, such as running the AC along with several other small electronic appliances alone by themselves.
Examining the Briggs & Stratton PowerSmart Series Generator price may not be the most economical choice; however, it is unquestionably a reasonable purchase. The unit has rarely been reported for experiencing any problem. It functions effectively to power various devices through its multiple ports, and it's trustworthy to power sensitive appliances such as smart devices.
The main peculiarities of the Briggs & Stratton PowerSmart Series comprise inverter technology, quiet power technology, LCD, multiple outlets, available portability, and a parallel connector port. It can produce 3000 starting watts and 2600 running watts. It highlights a large-sized 1.5-gallon fuel tank, allowing consecutive power supply for a peak of 10 hours on 50 percent load, and will work for an entire afternoon on 100 percent load. It weighs about 60lbs and is designed efficiently for convenient transport.
Functions & Ease of Use:
The inverter generator can be used by only about anyone with its simple-to-use recoil start and single power control knob. Briggs & Stratton has also included illustrated instructions with the pull cable to show you how to start the generator.
A user-friendly control panel is placed at the front of this inverter generator with easy to read labels to make you know exactly what stresses this generator has. Briggs & Stratton has built this generator as handy as a generator can get, with seven outlets controlling just about any appliance.
Outlets:
A 12v DC charger plug and USB outlet are combined into the control panel's middle to charge phones and small devices. Below these outlets, you will get four 120-Volt AC outlets to plug in the most popular household appliances or power tools.
Lastly, there is one 120-Volt 30 amp locking outlet with an RV adapter for any RV or other 120V needs. There is also a closed plug for parallel connections, enabling you to connect another 30545 generators to double the power.
Top Panel:
At the cover of the control panel, you will mark a few complex vital components. First, you will see a toggle switch enabling the inverter generator's Quiet Power Technology generator. It will lower the noise level of your generator for use within the neighborhood or more public areas. To the right of the switch is the generator's LCD and LED information center.
The LCD screen provides vital accomplishment metrics while the LED lights indicate low oil, overload, and functional status. You will see a printed maintenance schedule to help you keep a record of your generator's maintenance needs at the far right. Over the board, you will find various reset switches to reset your generator's power outlets in the case of an overload.
Portability:
With any portable generator, the generator must be, well, mobile. This generator features telescoping handles and never-flat tires to make moving this generator simple enough for anyone. Briggs & Stratton has integrated built-in handles into this generator's design for easy one-person or two people handling.
Noise Level:
When utilizing a portable generator in a public place before-mentioned as a food truck festival or your lawn during a blackout, noise levels will affect. The engineers at Briggs & Stratton have taken into account amplifying the PowerSmart 30545 generator and have made this one of the lowest noise generators on the market. As an industry standard, generator noise levels are measured in decibels, and noise readings are usually taken 23 feet away from the generator.
With this generator's quiet power technology, a switch's flip will automatically adjust the engine speed for optimal noise control. It helps the generator run quieter, increases fuel economy, and allows it to last longer. When this switch is flipped, the generator will run at only 58 decibels at ¼ loads. This noise level is softer than a normal conversation at 23 feet.
Gas Consumption & Capacity:
Rated Amps: 18.3 Amps @ 120 Volts
AC Maximum Output Starting Watts: 3000W
AC Rated Output Running Watts: 2600W
Rated AC Voltage: 120 VAC.
It has a frequency of 60 Hz. Featuring a 1.5-gallon tank, this generator can deliver power for 10 hours at ¼ loads with a full tank.
Features & Specifications
Run Time is up to 10 at 1/4 Load
Running Amps is 21.7A.
Clean and instant power to manage appliances and other necessary electronics running through a power outage, 30545s engine speed decreases noise, fuel consumption, and discharges.
Quieter than a conventional camping generator with sufficient power to excite a standard RV air conditioner
5-gallon fuel tank for an impressive 10-hour of continuous operation at 25-per cent load on a full tank. Engine Displacement (cc) – 171
Four household outlets, two 12-volt 30-amp locking terminal with RV adaptor DC charging socket, and a USB port
LCD Screen Displays Major Performance Stats & Maintenance Reminders
2-year limited warranty
At the flip of a switch, Power Technology would automatically adjust engine speed to reduce noise, save fuel, and run higher. At merely 58 decibels at 25% load, it's lower than a typical conversation.
The easy-to-read LCD screen displays the amount of power being used, total system hours, and maintenance reminders, along with oil, air filter, and spark plug changes.
A dedicated parallel connector port enables you to connect two PowerSmart Series inverter generators to pull more power without sacrificing a household outlet.
Pros
The unit has a great one and a half gallon fuel tank that can manage the machine for up to ten hours on half load. It will work all afternoon on the full load.
Like most inverter generators, it puts out high-quality energy safe to recharge your sensitive automatics. A traditional generator may have a higher than 6% total harmonic distortion, which will fry your phone, smart TV, or laptop.
It isn't just strong enough to supply several electronics or devices but has the plugs built to handle them. The generator begins with one USB port, one 12 volt DC outlet with an RV adapter, and four home outlets. Unlike many other portable inverter generators, it holds a rubber parallel port cover to maintain debris out of the ports when not in control.
It comes with a two-year limited guarantee. Whether or not the manufacturer acknowledges the warranty depends on where you purchase it.
It weighs sixty pounds outwardly, any fuel in it. It originates with both twin handles for carrying by one or two people. It happens with a telescoping handle for pulling along like baggage by the built-in 6-inch wheels. It is genuinely transportable.
The RV portable generator begins with a display to illustrate how many watts are being removed. Hence, you know how much load is on the generator and whether you can reliably plugin one more item.
Cons
The generator is more costly than average, and the price can appear expensive compared to the other Briggs and Stratton generators. Two of them combined give you around 4000 watts for a little added money than the cost of a single P3000 PowerSmart generator. It will appear smaller RV air conditioners but will try and may not operate with a 15000 BTU RV AC.
It isn't soundless for an inverter generator. There isn't much sound padding in the casing.
Some units have difficulties with the idle speed varying. It can point to it working so rough it stalls.
The oil drain slide is not a component of the chassis. Some of this finishes up in a crack in the unit wherever you can't clean it out as the oil drains. From there, it ultimately drains out through the gaps in the case.
Approaching someone on their helpline is an adventure in and of itself. Getting service through its website is even more challenging.
3. Briggs & Stratton P4500 Inverter Generator
Best Inverter Generator For RV
On April 30, 2019, Briggs & Stratton published their innovative addition to their popular PowerSmart series of soft inverter generators — the new Briggs & Stratton P4500. Safe to control all of your sensitive electrical devices (including laptops and tools) — including carbon monoxide monitoring (could save your life).
Special purpose:
Created for RV owners in mind and suitable for a broad range of applications, this inverter ensures excellent homeowners looking for additional power. The chief characteristic of P4500 is the built-in carbon monoxide monitoring method, which will follow CO levels, including shut the generator down automatically if the CO levels are enormous.
RV and homeowners have special generator requirements. Chief on the list of priorities is low running and clean power that won't wreck sensitive electronic equipment. It is what inspired Briggs and Stratton to improve their PowerSmart generators a few ages ago. Using inverter technology, these generators produce low HD power, even below high loads.
A sound-insulated enclosure and Quiet Power Technology, which reduces the engine RPM when the load requirement is lower, means that those generators are exceptionally quiet, fit for camping grounds and residential neighborhoods with noise level constraints. The P4500 supplies a perfect niche for RV generators, producing enough power for most RV air conditioners with the extra energy needed for all your other appliances without tripping the inverter generator.
Design:
The refreshed design gives the Briggs & Stratton P4500 a refreshingly contemporary look and is incredibly portable. It looks somewhat comparable to others in the PowerSmart series with a few tweaks and some combined technology. With 3,700 watts of running energy and 4,500 peak watts, the P4500 fills a much-needed gap in the brand's home and camping generators.
The extra wattage increases the usable power without growing too bulky and heavy. Weighing 115 pounds, this inverter generator is pleasantly sized to be considered a portable generator. Right wheels and a retractable handle make it easy to move about a campsite or the garage.
Safety features:
The 224cc Briggs & Stratton engine has a push-button electric starting and all the safety features that one would expect, like low oil shutdown. They've also added a new safety feature. It is CO Guard technology. Carbon monoxide poising is the entirety of the biggest danger connected with the use of a gas generator. The Briggs & Stratton P4500 begets carbon monoxide sensors that will close the inverter generator when high CO levels are detected to shield you from this. An LED warning light will ignite, alerting you to the situation.
Panels:
The Briggs & Stratton P4500 has two user boards. On the front panel, you possess the starting duties, a dial to operate the fuel supply, and a touch button opener, along with a recoil starter for crisis starting. This interface also incorporates an LCD, providing you an instant introduction to critical information, like fuel level, energy usage, and running hours. Read our review on Top 10 Best Home Generators.
Outlets:
The side panel has all your energy outlets and circuit breakers. These combine a 30A RV outlet, 2 X duplex 120V 20A outlets, and 2 X USB gates. These all hold plastic covers, protecting them from dust and dampness. The entire generator has an impact-resistant plastic housing that reduces noise emitted by the engine and preserves the generator from dust and knocks.
Although there's no specific notice of parallel connection for this inverter generator, it's a standard feature listed for the PowerSmart generator series. You can join two Briggs & Stratton P4500 generators in correspondence using the optional parallel connection kit. These will double your power output to a 9,000W peak and 7,400W running power.
Noise level:
As we've grown to expect from inverter generators, the P4500 provides safe power that won't injure electronic devices. It also has a Smooth Mode, which is the equivalent of the Eco mode on other inverter generators. A switch near the user panel involves an electronic control that controls the engine revs. When the power requirement is shorter than 25% of the measured output, the engine operates at a lower RPM, reducing sound levels and fuel consumption.
Fuel consumption:
Briggs & Stratton requires that this generator is one of the best if it comes to fuel economy. According to us, it is below average when compared to other inverter generators. The P4500 has a generous 3.5-gallon gas tank that will hold the generator supplied with sufficient fuel to last for 16-hours at 25% load.
If we change these stats to kilowatt-hours per gallon (the most reliable way to compare generator fuel loss), the Briggs and Stratton P4500 doesn't happen too well. It has a fuel-burning rate of 4.2 KWH/G. A generator, particularly an inverter model with an economy mode, should provide you at least 5KWH/G if you're working to rate it as being economical on fuel.
Features & Specifications
Push-button electric start with automated choke
Power is 4500w starting / 3700w running
Multi-function display monitor shows power usage, fuel level, and run time.
CO Guard carbon monoxide shutdown automatically Sets off when CO levels get to hazardous levels.
Lasts up to 16 hours at 1/4 load
60% quieter than a conventional generator
Start Type is Electric/Recoil
Fuel Gauge is available.
Size includes Width (in) : 17.6, Height (in) : 20.3, Length (in) 24.5
Consumer Warranty (Product): 36 months
Engine Displacement: 224cc
Low Oil Shutdown, Hour Meter
Weight (lbs) 115
Commercial Warranty (Product) ** 12 months
Push-button electric source with automatic choke for fast and easy starting
4500 starting watts and 3700 running watts produce the power you need for RV and campsite use
CO Guard carbon monoxide shutdown technology locks down the generator when dangerous levels of carbon monoxide are detected.
A multi-functional display panel controls power usage, fuel level, and run time.
Run time up to 16 hours at 1/4 load so you can keep power longer
(4) 120V, 20A outlets, (1) 120V, 30A RV outlet, and (2) USB ports allow you to stay connected and keep multiple items powered simultaneously
Safe for Sensitive Electronics with inverter technology produces smoother power for sensitive electronics such as laptops, phones, and gaming systems.
A protective shell minimizes noise while protecting internal components.
Pros
CO guard technology
Presence of multiple power outlets
16 hours of power at 25% load
Cons
The tricky fuel entry point
4. Champion 100519 6250-Watt Inverter Generator
Best Quiet Generator
We can think that it is a hybrid because it is an Open Frame inverter-generator. Companies typically enclose their inverter generators with panels to decrease noise and enhance their looks. The Champion 100519 is made into an open frame, but it remains the inverter generator. To add to that Digital Hybrid account, you may think it is an Open Frame Digital Hybrid.
Another example of a hybrid generator works on gas or propane, but the Champion 100519 does gas only and does not qualify. It's termed a "hybrid" because it is an open structure generator with inverter technology, and it is a Digital Hybrid since it uses digital and analog components.
Hybrid Claim:
It has an Inverter with a 4.8Kw 240V, 60Hz unit. The inverter generator has two three-phase AC loops, a DC coil, a control coil, and an ignition coil. The AC coils and control coil attaches to the inverter, and the inverter provides the clean power output.
Noise level:
Inverters make their own 60 Hz frequency, so it does not depend on engine speed for frequency check like conventional generators. By controlling the power demand, it can reduce down the engine to save fuel and reduce sound. Users can change this function on and off with the Economy Mode switch when the circuit changes in and out often.
The inverter controls the inverter generator speed with a little stepping motor, opening and closing the butterfly valve. This characteristic is expected of inverter generators, and it is useful in reducing noise levels and lowering fuel burning. According to the company, their 100519 inverter generators are 50% quieter and 20% lighter than a traditional Champion 5000-watt generator.
It is the quiet generator for money and accomplishment. The Champion 100496 open frame standard generator has a noise level of 74 DBA. The Champion 100519 Digital Hybrid translation is 69.0 DBA. According to a recent study on perceived noise levels, a measured level variety of 6 decibels would be half as noisy. Therefore, Champion's claim is sound, and it should sound close to half as loud as a standard generator.
Footprint:
They cut 20% weight off the Champion 100496 models from 152.1 to 121 pounds for this new design. Champion used a more practical mechanical design and improved the layout of the generator. The new design also appeared in a smaller overall footprint; they reduced the unit's range by almost 4 inches.
Fuel consumption:
The Champion 100519 has a metal fuel vessel holding 4.2-gallon fuel, and it has a fuel gauge implemented on top. The generator runs 12.5 hours, at about 25% load. Unfortunately, that is not useful evidence of how fuel-efficient the generator is. To connect it to other generators, we assume its fuel consumption, considering its power output. Its fuel burning is a disappointing 3.72 kilowatt-hours per gallon. Contrast that to the consumption of the Honda EU7000iS, which is 6.45 kilowatt-hours per gallon at 100% load, and you'll accept.
Power:
At 6250 starting Watts for the Champion, you ought to 52.1A available at 120V and 26.0A at 240V. The 5000 running Watts at 120V is equivalent to 41.7A, and at 240V, it is 20.8A. A 5000-Watt generator with pure power is a useful standby generator during a power outage. You can utilize it where you need stable power, and the wholesome power output originates it safe with all the latest tools and battery chargers. With its more cramped than 3% total harmonic signal distortion, it's protected with all your expensive computers, TV, and other entertainment systems too.
Outlets:
The power terminals on the interface panel of the Champion 100519 have neat rubber cases. The two dual 120V 20A GFCI protected house outlets (5-20R) have a 20 Amp circuit breaker that you push to reset. The 41.7A is given by the two sets of dual household terminals with 20 Amps each. The electronic overload preserves the 120/240V 30A locking outlet (L14-30R) and should start at 30 Amp.
Champion provides a dual USB adapter and battery-charging cables with the 12V DC automotive-style terminal. An 8 Amp trip protects the DC outlet of the Champion 100519. Nevertheless, it is not a regulated supply and therefore only intended to charge batteries and use the USB adapter. The Intelli-Gauge on the administration panel of the Champion 100519 displays Frequency (Hz), Volts, and runtime alternately as selected with the button.
Cold start technology:
The Champion "Cold Start Technology" sets out to be a manually operated choke. To begin the Champion 100519, you pull the choke, choose power-on, and remove the recoil starter. When you turn it off, the fuel solenoid valve closes the fuel stream to the carburetor to prevent flooding.
The engine received the required EPA certification, and it is CARB compliant. CARB is an environmental protection company; the California Air Resources Board. They concentrate on small power equipment engine emissions. CARB-compliant engines must satisfy more stringent air quality standards and may be practiced legally in California.
Voltage regulator:
The inverter controls the output voltage and frequency automatically. The inverter can also check the engine speed with a stepper motor to operate the output power. It also controls a low oil shut-off sensor that's fitted to the engine. Should the oil level ground too much, it will shut down the engine. Inverter modules in inverter generators do much more than pure produce power; it's also the generator's power center.
Features & Specifications
50% quieter and 20% more buoyant than a traditional 5000-watt portable generator
The Intelligence monitors: voltage, frequency, and operating hours, and Cold Start Technology ensures quick cold weather.
301cc engine delivers 6250 starting watts and 5000 running watts
Works for 12.5 hours at 25% load when the 4-gallon fuel tank is full.
From 23 feet, this inverter works at 69 DBA (as loud as a vacuum cleaner)
Holds 1.2-quarts of oil (recommended 10W-30): low oil shut-off sensor and an Active Drain oil tube for easy changes.
Confidently match your sensitive electronics since our hybrid produces only Clean Power (less than 3% THD).
Economic Mode monitors energy consumption in real-time to reduce the electrical load, present quieter operation, lengthened engine life, and higher fuel economy.
This inverter's covered plugs include a 120/240V 30A locking outlet (L14-30R), four 120V 20A GFCI guarded household outlets (5-20R), and a 12V DC automotive-style terminal with a dual USB adapter and battery-charging cables.
Foldaway holder and never-flat tires.
Entirely constructed EPA certified and CARB compliant.
3-year limited warranty and FREE lifetime professional support.
Pros
Bigger 4-gallon fuel tank.
Nicely located touch controls.
eco mode conserves fuel
oil drain tube makes oil changes more comfortable and cleaner
Excellent warranty terms.
9-60 Hz consistently with no worry about damaging sensitive electronics
Cons
It cannot be paralleled.
A little inconvenient to fill when changing the oil
5. Westinghouse WGen9500DF 9500 Portable Generator
Best Portable Quiet Generator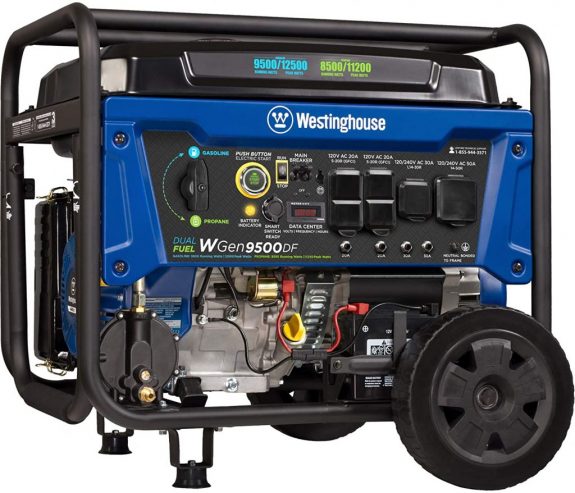 A generator can nevermore be too powerful. In the realm of portable generators, 9,500 watts is approximately as much as you'll get. In moments of desperation, any 9,500W generator will inspire you in your time of need, when you require an emergency substitute for your home during a natural disaster, for instance. Even in less trying circumstances, the Westinghouse 9500W will satisfy your particular job site conditions.
The Westinghouse WGen9500 is, arguably, the most significant 9,500W generator on the market because it is a genuinely reliable machine with excellent power output and outstanding fuel conservation. It is also one of the added affordable choices for anyone considering a 9,500W portable generator that's tough sufficient to cope with both residential and Jobsite power requirements.
The WGen9500DF is a dual fuel (hybrid) version of the Westinghouse WGen9500. They are the same generator, except that the WGen9500DF can operate on either gas or propane. This versatility can be of exceptional value during a natural disaster if gas may be in a short amount. Propane has also become a standard fuel for people concerned about environmental problems. Propane is a cleaner-burning fuel with lower discharges of harmful greenhouse gasses.
Front panel:
The dual-fuel variant of the 9,500W Westinghouse generator (WGen9500DF) is only characterized by the large dial on the front panel that enables you to change the fuel standard, either gas or propane. In all different respects, it looks identical and is the corresponding generator.
Power:
One always needs to keep in thought that a generator is less productive when using propane. So you would be doing your bit for the atmosphere, but you don't get quite as much power from your generator. If using propane, you have a peak range of 11,200W and a rated load of 8500W. You may be querying how this lower efficiency changes your running costs when using propane.
Features & Specifications
Perfect as a backup power specialist for larger homes or a reliable source of portable power
9,500 running watts, 12,500 peak watts (gasoline); 8500 running watts, 11,200 peak watts (propane)
It perseveres for up to 12 hours on a 6.6 gal. fuel tank with built-in fuel gauge; finished to 7 hours on a 20 lb. propane tank
Powered by a heavy-duty 457cc 4-Stroke OHV Westinghouse Engine constructed with a durable cast iron sleeve
Push-Button Electric Start pairs with a key fob and is backed by an emergency recoil start.
Dual fuel operation quickly switches from gas to propane without shutting off the unit.
Weighing 220 lb. with as low as 74 dBA operating volume
(2) GFCI 5-20R household duplex outlets, (1) Transfer Switch Ready L14-30R 120/240-Volt twist-lock, and (1) 120/240V 14-50R with rubber outlet covers
VFT display gives you real-time updates with the voltage output, frequency, and lifetime hours
All Westinghouse portable generators are functionally tested in the factory and may contain minimum residual oil and fuel odor.
Pros
High power output suitable for the largest appliances
Minimal risk over overloading
Up to 40% better efficiency than other generators in its class
High capacity fuel tank for extended use
CARB Compliant
Cons
Heavy and hard to move, even with the wheels
6. Briggs & Stratton P2200 Inverter Generator
Best Portable RV Generator
Briggs & Stratton generators feature potent powerhouses that generate enough power to meet your power necessities at home, on a job locality, or for recreational uses. And that is still the problem with the lightweight P2200 PowerSmart Series. It's an ideal compact generator for camping, tailgating, and light household power backup needs. Learn about What Is An Inverter Generator?
Biggs & Stratton is one of the best power equipment manufacturers with over 100 years in the sport. They are recognized for their innovative products that are built to last.
Smart Power:
There aren't many generators that offer parallel running despite this being a huge success. The ability to run longer than one generator in parallel presents one with a great deal of versatility. You can run an extra dynamo from the Power Smart series together with this one to increase the energy output.
Besides having the advantage of parallel capabilities, the Briggs and Stratton Power Smart series also utilizes inverter technology that creates a pure sine wave with less than 3% harmonic twist, perfect for sensitive electronic equipment. It's the inverter that performs the parallel functioning possible.
Design:
It is a beautiful-looking generator with a compact modern scheme. This design not only looks fabulous but is also very practical for a transportable generator. The handle design is ideal for carrying the machine because you can use two hands; this also presents it easy for two people to have it if it feels a little heavy for just one person.
Portability:
The handle becomes smart because it crosses over near the center of the inverter generator. This central cross piece's positioning is carefully calculated to give a perfect balance when carrying it with one hand. It will prove very handy for recreational users and contractors who will be moving it about regularly, and it's straightforward to load in and out of a vehicle with either one or two hands.
Power:
Power is perfect for a machine of this weight and size. It delivers 1700W running power and 2200W peak power from a 111cc OHV engine. The generator is designed to run quietly, having around 59dB at 25% load from a distance of 23 FT. This noise level is with the conservation (Power Smart) setting, which lowers the engine revs for more moderate loads and only increases power when needed. It has the advantage of lowering fuel consumption and wears on the engine and reducing noise levels.
If you want to improve the generator's power, you can pair it with another P2200 or step it up even further by matching it with the bigger Briggs and Stratton P3000. To do this, you'll need to practice the Briggs and Stratton Parallel Kit (6278), which is a free extra for some generators in the Power Smart series.
Restart starter:
It uses a recoil starter with a standard choke. While an electric opener is far more comfortable, it's usually more common for smaller engines like this to utilize a recoil starter. The small capacity doesn't need much strain to get started, and by doing away with a starter motor and battery, a lot of excess weight is shed, making it easier for one person to move. So, in the end, you lose the luxury of starting with the press of a button but obtain the advantage of easy portability.
Control panel:
It has a unique and easy-to-understand control panel with two 120V AC outlets and a 12V outlet using a regular cigarette lighter type plug. The generator comes with a kit that incorporates a 12V alligator clip adapter and a 12V USB adapter. You also prepare a funnel and multi-purpose screwdriver. The panel also has LED indicator lights for a period, low-oil warning, and overload warning. In the middle of the panel is an input for the parallel cable. Circuit breakers defend both the DC and AC circuits.
Switch:
There's a switch to install the generator to run in conservation mode or high-power mode. It has a 1-gallon fuel tank. So even though the motor is relatively small and you have the possibility of a more economical Smart mode, the best running experience you'll get is of 8-hours at 25% load. It will turn out to be around 4-hours for most characters who will be using it at about 50% load.t
The Briggs and Stratton inverter generator is a beautiful small generator that's simple to store and move about. Coupling this with inverter technology for electric equipment and parallel functioning for endless versatility make it a desirable option for small companies and home users. Add to this Briggs and Stratton's many times of experience building generators and a 2-year guarantee, and you've got a winning formula.
Features & Specifications
110 cc OHV engine delivers 2,200 starting watts and 1700 running watts
38% quieter and 45% lighter than a regular camping generator
Capable of managing multiple appliances at once.
1 Gallon fuel tank for an exciting 6-hours of continuous operation at 25% load on a full tank
Lasting magnet alternator, recoil start, electronic idle control, and low oil shutdown
Includes: Engine oil, swift start guide, operator's manual
Weight is about 54 lbs.
Size dimensions are Length = 21″ / Width = 12.5″ / Height = 17.35″
H-handle design lets one person quickly move the light generator when needed or allows two people to share the load conveniently.
Light-weight design and quiet generator operation make this the best backup power solution for tailgating, camping, outdoor recreation, and emergency power.
PowerSmart Mode: Saves Fuel & Lowers Noise. Automatically adjusts engine speed based on the electrical load.
LED (Green) Making, (Yellow) Low-Oil & (Red) Overload Alert. Provides added security so you can enjoy the power
1-Gallon Fuel Tank w/choke Lever for Cold Starts. Provides up to 6.5 @ 25% Load
AC & DC Circuit Breaker Protection: "Push to reset" design protects against generator damage
The Control panel includes three outlets (one DC and two households) and a USB adapter, offering enough flexibility to power an extended combination of lights, music, TVs, crock-pots, blenders, superior electronics, and more.
A dedicated parallel outlet lets you compare to another PowerSmart Series P2200 or P3000 generator to produce an even more vital power source.
Quiet: 59dB operating volume, it's slower than a normal conversation, so it blends into the background of social situations.
Safe for Sensitive Electronic Devices: Automatically adjusts the engine speed to protect sensitive electronics like smartphones, tablets, and laptops.
Pros
The Briggs & Stratton P2200 has excellent technical specs, but these do not last out against the competition. What does display apparent with comparable portable generator designs is that the generator is very user-friendly.
If you are studying for a simple to employ portable inverter generator, then the P2200 is an excellent first choice. Also, the many customer service positions spread around the United States make it easier to get the assistance you need to handle this inverter generator.
The most significant advantage of the P2200 is the PowerSmart Series and parallel fitted with any other dimension generator in the same line. It provides you with full control of how much power you require to use.
The other benefits of the Briggs & Stratton P2200 are ideal qualities of inverter generators in this class before-mentioned as low noise level, decent run time, low oil abandonment, and being light-weight
Cons
Though the technical specifications of the Briggs & Stratton P2200 do not stand out, there are likewise very few negative points for this model. This model's main problems have to do with what you will be using the transportable generator for.
One downside is that the Briggs & Stratton P2200 does not have a USB harbor. Since an inverter generator is the go-to option of a portable generator to stimulate sensitive electronic devices like cameras and laptops, it is remarkable that the manufacturer has left this detail.
If you use your electronics a lot throughout an outdoor trip, the lack of a USB might be crucial in choosing a different model.
Another drawback is the portability, specifically the h-handle. Fifty-five pounds is not incredibly heavy, but having two handles would have made it easier to spread the weight among two people.
Finally, we come to power. The P2200 is on the more moderate side of generator power, but this is enough for many. Plus, parallel capabilities must take care of most of the power needs.
7. Champion 100573 4000-Watt Inverter generator
Best Portable Inverter Generator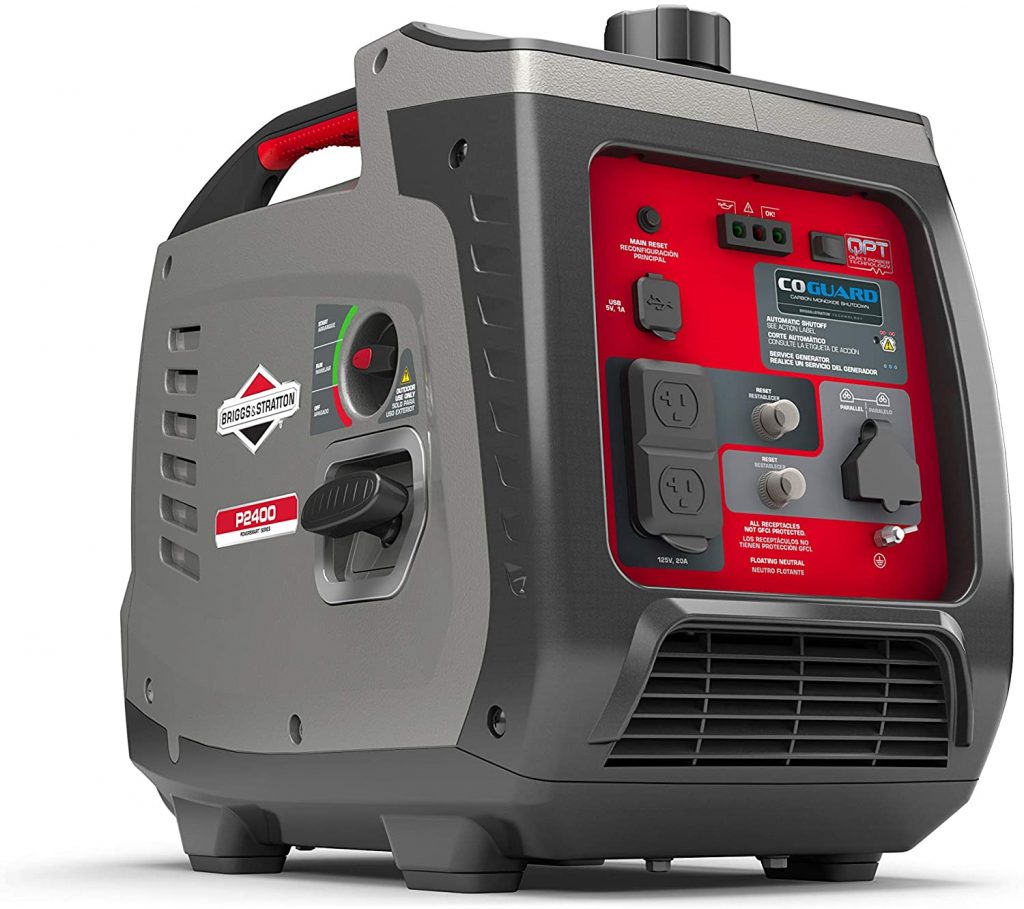 Champion is a market leader in power supplies. Its products are known for stability and efficiency that users can depend on at work and house. One of its reliable generator designs is the Champion Power Equipment 100573, 4000-Watt. It is one of the most challenging power sources you will find. It is RV-ready, light-weight, and works quietly runs that you will not have to worry about concerning the neighborhood, especially at midnight.
Innovative Open Frame Design:
This innovative inverter has a hybrid open structure that makes it more lightweight and quieter than conventional machines. This inverter from Champion offers only clean energy, making it EPA and CARB compliant. Moreover, it highlights an economical custom for fuel efficiency.
This project will make your life a lot more comfortable with a 224 cc 4-stroke gasoline-fueled engine. It can provide a 120V output and a running wattage of 3500W. The 100573 can also produce a peak wattage of 4000W. Additionally, you can correlate this 3500-watt inverter generator with a comparable or compatible unit.
With Convenient Wireless Remote Start:
This generator comprises a wireless remote key fob that you can utilize the unit on and off even from 80 feet away. No other device can give you more convenience than this one.
Further, its Cold Start Technology allows you to make a quick start even during a cold climate. It also has an ergonomic foldaway easy-grip designation and a never-flat tire kit, making it very healthy to use. Users will also like the Quick Touch Panel that gives fast entrance to the machine's various controls.
Extended Runtime:
You can utilize this device for up to 17 hours when using gasoline. Its fuel tank can contain up to 2.9 gallons. It has silent technology that the generator provides only 64 dBA. This sound level is fitting for your RV or any campsite.
Additionally, Champion advances excellent maintenance support with its three years restricted warranty. It also presents free lifetime technical support from licensed experts.
Features & Specifications
The Champion Power Equipment 100573 4000-Watts RV Ready Digital Hybrid Inverter Generator is one of the most superior products on the market. Powering your journal takes on a whole new purpose with our feature-packed, innovative technology, and design.
A quiet, lightweight addition to your RV and a cost-effective power solution, this Digital Hybrid inverter is smaller, more peaceful, and lighter.
Our 4000-watt generator with included wireless remote key fob allows you to start and stop your generator from up to 80 feet away. Enjoy on/off push-button power with electric start, battery included, plus Cold Start Technology ensures a quick start in cold weather, and Quiet Technology cuts the noise level in half.
Champion's reliable 224cc Champion engine produces 4000 starting watts and 3500 running watts and runs for 17 hours at 25% load when the 2.9-gallon fuel tank is full.
With a 0.6-quart oil capacity (approved 10W-30) and a low oil shut-off sensor, this inverter works at 64 dBA from 23 feet, which is a bit louder than everyday speech.
Confidently compare your sensitive electronics since our combination produces only Pure Power (less than 3% THD). The foldaway easy-grip handle and added wheel kit with never-flat tires make it a cinch to transfer your power where you need it.
Our Quick Touch Panel offers a fast path to controls. At the same time, Economy Mode monitors power consumption in real-time to reduce the electrical load, provide quieter performance, extend engine development, and increase fuel conservation.
The outlets in this RV Ready inverter incorporate a 120V 30A RV (TT-30R), two 120V 20A household sockets (5-20R), and a 12V DC automotive-style terminal, a dual USB adapter, and battery-charging wires.
With an added standard 50-amp RV outlet, the optional Parallel Kit allows you to increase output by connecting up to two 2800-watts or more powerful inverters or digital hybrids.
Buy this fully gathered CARB compliant inverter with confidence – Champion Support and our national network of service centers will back up your gain with a 3-year limited warranty and FREE lifetime technical support.
Pros
Affordable
The ergonomic noiseless design
Uses battery-powered remote starter
High efficiency
Dependable performance
Decent output. ​
Efficient and low noise levels.
Very portable
Cons
The fuel tank could have been designed better
The fuel tank is hard to fill.
8. Champion 100402 2000-Watt Inverter Generator
Best Dual fuel Inverter Generator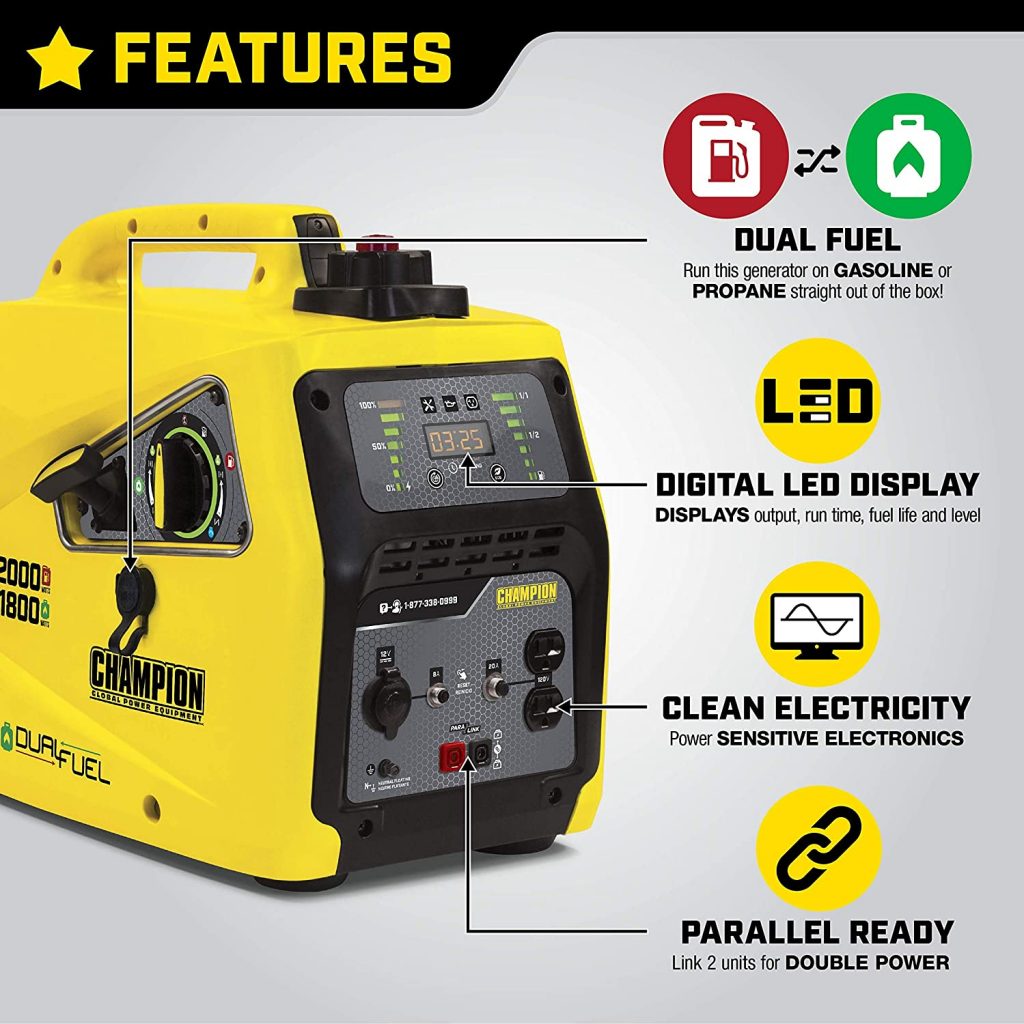 The Champion Power Equipment 100478 2000-Watt Portable Inverter Generator is ideal for camping, tailgating, powering items around the RV, or providing backup for a few basics. This unit is not recommended for emergency home backup. Weighing in at only 38 pounds, this model is one of the lightest 2000-watt inverters on the market.
Thanks to Champion's innovative design, power on the go has never been easier. Power up with the reliable recoil start, plus Cold Start Technology ensures a quick start in cold weather. Including two 120V 20A household outlets (5-20R) and a 12V DC automotive-style outlet, this inverter operates at 53 DBA from 23 feet – about the same noise level as a dishwasher running in the next room.
Using gasoline, the 79cc Champion engine produces 2000 starting watts and 1700 running watts. When the 1.1 gallons of gasoline tank is full, this inverter will run up to 11.5 hours at 25% load. Connect this Parallel Ready inverter with another Champion 2000-watt inverter for 30 amps of power. The optional clip-on parallel kit integrates two inverters and has a standard 30A RV outlet and a 120V 30A locking outlet.
Confidently connect your sensitive electronics since this inverter produces Clean Power (< 3% THD). Designed for safety with a low oil shut-off sensor, this model has a 0.5-quart oil capacity. Champion's Inverter Technology includes smart Economy Mode, which can reduce the electrical load, providing quieter operation, extended engine life, and better fuel economy.
Fully assembled with a hassle-free setup, the built-in carrying handle makes transport a cinch. Buy this EPA-certified and CARB compliant inverter with confidence.
Front Panel:
The front panel features two 120-Volt 20-Amp GFCI receptacles and one 8-Amp 12-Volt outlet; EZ starts to dial, ultra-quiet operation, and offers 2000 starting watts and 1600 running watts (1800 starting watts and 1440 watts on propane.)
Included with the Champion 2000 Watt Generator: Propane Regulator, Dual Port USB Adapter for the 12-Volt Outlet, Oil Funnel, Operator's Manual, and the Champion 3-Year Limited Warranty. (10W-30 oil NOT included.)
The digital power panel includes a low oil level indicator and monitors power output, fuel level, total run time and fuel life, receptacle status, economy mode, and maintenance.
LCD:
Champion minimizes the hassle of refueling in the dark with Fuel Fill Assist LED, a push-button LED built right into the handle to illuminate the gasoline fill area. Operate your Dual-Fuel generator on gasoline or propane. The EZ Start Dial takes the confusion out of starting an engine, plus it allows you to switch fuels with a quick turn of the dial. Cold Start Technology ensures a fast start in cold weather.
Power:
Using gasoline, the 80cc Champion engine produces 2000 starting watts and 1600 running watts and will run up to 11 hours at 25% load when the 1.1-gallon tank of gasoline is full. Using propane, it produces 1800 starting watts and 1440 running watts.
Buy the optional, space-saving ParaLINK Parallel Kit (not included) and connect this inverter with another Champion 2000-watt inverter for 30 amps of power. The optional parallel kit allows two inverters to be stacked and has a standard 30A RV outlet and a 120V 30A locking outlet.
Features & Specifications
Champion Inverter Technology – Clean Power (<3% THD): Clean, quiet power for campsites, RV's, cabins & tailgating
Dual Fuel Operation: 1600 Running watts & up to 2000 starting watts on gasoline
1440 Running watts & up to 1800 starting watts on propane
Champion 80cc OHV Engine w/ Low Oil Sensor: Provides added protection to extend engine life
EZ Start Dial w/Cold Start Technology: This makes starting your generator an easy task
Allows for easier starting in cold weather
Economy Mode Switch – 11 Hours of Run Time @ 1/4 Load: Adjusts engine speed to the optimum level depending on load
Digital LED Display: Easily see how much power you're using
Let's you know how much fuel life remains (Gasoline)
Quiet – Only 53 DBA: Fully enclosed durable housing reduces sound output
Parallel Operation Capability: Increase available wattage when linking 2 Champion inverters
Requires ParaLINK parallel kit (Included)
Fuel Fill Assist LED: Push-Button design, Illuminates gasoline fill area.
Stackable Design: Great for storage, traveling, and when paralleling generators.
Light-weight Design w/ Built-In Carrying Handle: Performs this generator easy to travel where you need it most
Added Characteristics: 12V DC Outlet & USDA-Approved Spark Arrestor or Muffler
Also Covers:3' LPG Hose w/ Regulator, USB Adapter & Oil Funnel
3-Year Limited Warranty & FREE Lifetime Technical Support
EPA Certified & CARB Compliant
Pros
Dual fuel inverter generators are quiet, clean, more efficient, and reliable.
They also tend to be more portable and run longer.
Their size, weight, portability, and reliability make them attractive units for RV, tailgating, boating, home power emergencies, and more.
A significant advantage is the "clean" power inverter generators produce to run various today's sensitive electronic devices and gadgets safely.
A dual fuel inverter generator gives you the option of fuel sources to ensure a continuous power supply.
Inverter generators are also more fuel-efficient.
The engine is designed to adjust to the power load needed, so it does not continually run at full speed or use as much fuel.
Inverter generator engines are also quieter than standard generators. Their mufflered, sound-dampened engines that run quieter when they throttle down for lighter loads are typically encased in acoustic cabinets. Most emit noise between 50 dB and 65 dB.
Cons
Loud
Cannot be used as an emergency backup for home
9. Pulsar G2319N 2,300W Inverter Generator
Best Quiet Generator For RV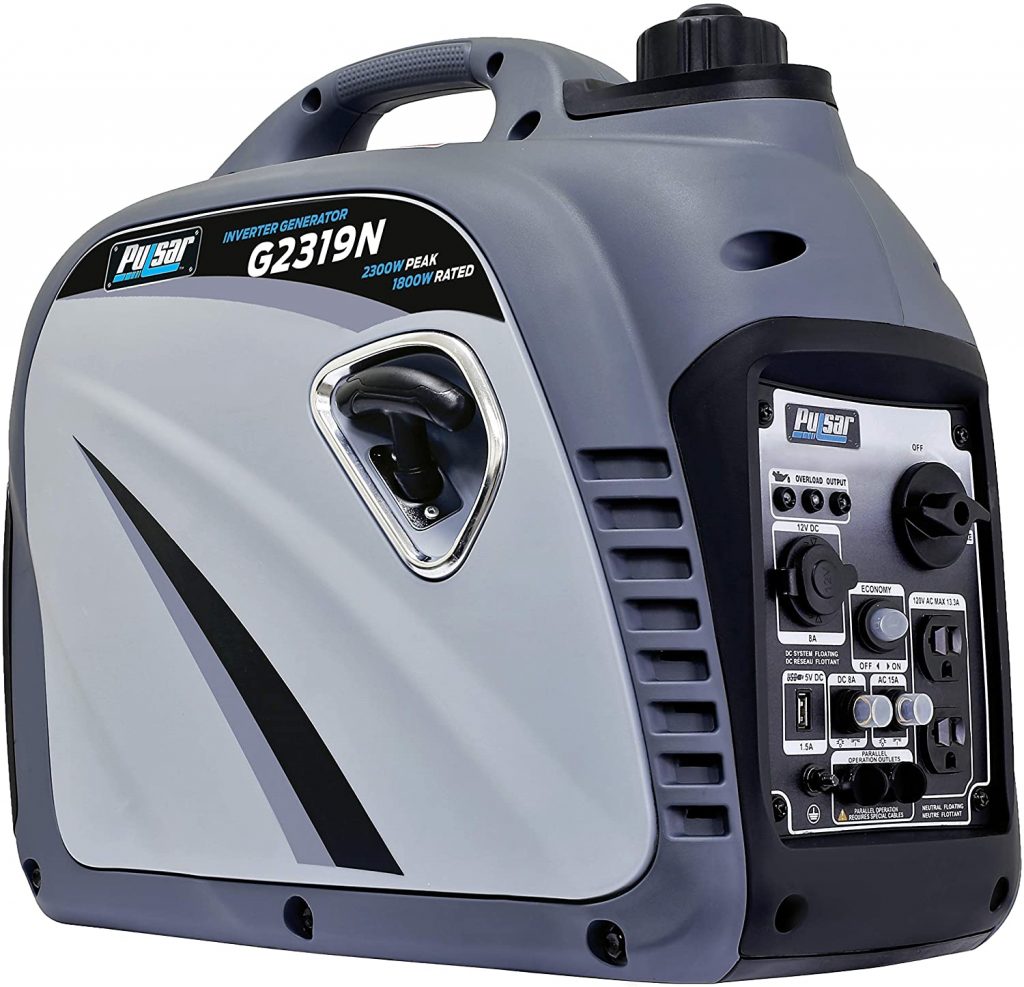 The Pulsar G2319N generator is a helpful and practical solution for charging various devices on the go. Its lightweight layout (which weighs only 47lbs) assists in outdoor and camping activities. The OHV engine provides a compelling output of 2300 peak watts. It compares to 1800 running watts. With the Parallel Capability option, it is reasonable to run two generators at the same time.
Power output will be doubled, and generators' overall capability can restore large and bulky generators that are hard to manage. With the Pulsar G2319N, you get a free generator that offers power to your phone, laptop, tablet, and other things. You can thoroughly enjoy your time with friends and family when outside.
Compact Design:
People who appreciate camping, raving, and hunting refuse to be burdened down with bulky equipment. But, they need a power reservoir, which is why they invest in generators. The Pulsar G2319N has a snug design to ensure convenient portability. The generator weighs approximately 19.7" L X 11.22" W X 17.91" H. Before you advance in this generator, it would be a good idea to measure the space you have kept for storage. It will reduce the need to return the generator since it is too large.
Lightweight Design:
The Pulsar G2319N is a lightweight inverter generator. The unit scales approximately 47 pounds, so you should be ready to transport it from place to place with little to no trouble. The lightweight design makes this the absolute generator for all outdoor events.
Two 120V Outlets:
The 120V outlets will enable you to power two small machines or electronic devices concurrently. Use one of the outlets to power your machines that need continuous power. The other can be used to charge the batteries of your phone, tablet, and other mobile electric devices.
AC Circuit Breaker:
The AC circuit breaker will defend the unit from damage created by electric overloads. When the generator converts overloaded, the breaker will trip, closing down the entire unit. This safety innovation will ensure the generator's life by reducing the risk of damage caused by electric overloads.
Features & Specifications
The very silent operation produces just 59dB of sound, making the generator completely silent only 10 feet away.
Compact "suitcase" device is easy to carry around and transportation to any place, weighing less than 47 lbs. for easy handling.
Capable of up to 4.8 hours of operation at Half Load on 1.18 gallons of fuel.
Stable sine WAVE Technology provides pure, safe electrical power for powering and charging laptops, cell phones, and other sensitive electronic devices.
A very readable display gives oil warning information, overload indication, and operation evidence for complete control across the device
Dual 120V outlets, an additional 12V "cigarette" outlet, and a personal USB port give you completely safe electrical energy to charge your phone, tablet, or laptop
It has 2,300 peak watts and 1,800 running watts
Ideal for Tailgating, Camping, and Small 120V Appliances.
Pros
Compact and light-weight design and convenient features
Kind of silent operation
Applies Sine Wave Technology for eco, safe generated power without harming your electronic devices.
Parallel capability to expand power wattages
Offers multiple outlets
Recoil start
2-120V outlets, 1-12V DC outlet, and 1-5V 1.5 USB outlet
Operational noise – 59 dB
A very economical and reliable generator
Cons
Cleaning and replacing parts is not convenient.
Short operation time (4.8 hours)
It may get noisy and rough when operating at an intense load.
Requires an interval period to work efficiently
Runs rough on small loads
Oil fill and drain design needs improvements
10. Champion 100692 2000-Watt Portable Inverter Generator
Best 2000 Watt Generator
The portable inverter range is rightly governed by Yamaha, Honda, and Briggs & Stratton. Still, the Champion Power Equipment 73536i 2000 Watt portable generator easily matches many big-name models of comparable size and output at a more affordable cost. The Champion 2000 Generator 73536i has a working wattage of 1700 watts and peaks at 2000 watts.
It is sufficient for most outdoor use, such as powering small tools and appliances. You're going to require something a little bigger than that if you want to power a full home during an emergency outage, but for outdoor use, you'll hardly find a better inverter generator at this price point.
Design:
Champion Power units are any of the best looking around, highlighting a distinctive bright yellow finish. The 73536i is a well-built system with a proprietary stackable device that's compact and sturdy. The generator highlights a cube shape with bright yellow encasing on and black corner posts and handles. It's pretty lightweight and straightforward to hawk around by hand. The unit's space-saving stackable design enables it to be paired with the different 2000-watt Champion correspondence kit to ramp up the energy output to 30A.
Undoubtedly, this is an original way to extract more power from these units and make them more flexible. Still, the downside is that you need to spend twice as much to buy the companies if you are looking for large power output regularly. The Champion 2000 Generator 73536i weighs a little smaller than 50 lbs., making it simple to carry either by fingers or in a backpack.
Performance:
The unit provides 1700 running watts and 2000 starting. The power generated has a base THD (Total Harmonic Distortion), so it's relatively clean,' regarding what you get from conventional units. This 'clean' power is essential for powering delicate electronics, and it's this characteristic presents the 73536i ideal for small electrical gadgets.
Given that unit's 1700 running wattage, you'll need to understand your excellent power needs down to the minute detail. For instance, you cannot run several home machines before in case of a power outage. If you're continuing to use the 73536i at home, it's got to be solely for the most critical appliances.
Fuel Economy:
The Champion 2000W Generator provides 9.5 hours maximum runtime on a full tun of gas at 25 percent load. The Champion's intuitive fuel-saving technology allows the generator to rev at a reduced speed when the power need decreases – detected automatically when the economy form is activated. This way, the machine saves fuel. The little fuel savings may not mean a lot initially, but they join up completely using the generator, and you'll realize savings in fuel costs.
Noise level:
The economy mentioned above mode also provides for a quiet operation. Manufacturer claims say that the unit peaks at about 52 decibels in economy mode and 72 decibels in normal running mode. That's impressively quiet by generator standards. So overall, the Champion 73536i can be classified as a quiet generator.
Revving at reduced speed also helps reduce engine wear. The result is that you will be following parts less often than you would with improved engine wear. Again, this all sums up to savings in maintenance costs altogether the generator's life.
Engine:
The 73536i is powered by a qualified 80cc single-cylinder engine with a 4.2-liter size gas tank. The engine's OHV (overhead valve) plan allows for more efficient heat dissipation, which combines a couple of periods to the engine's lifespan. The engine is fully CARB compliant and matches strict low emissions standards for most states, including those as severe as California's.
The 73536i ships with 0.4 qt. 10W-30 engine oil and a convenient funnel make it more comfortable to add the oil to the tank. The engine has a low-oil pointer and automatically checks providing power to the outlets when the oil level goes low and hits the total minimum. It is possible, gratitude to the low oil auto-shut-off sensor.
This nifty feature also serves to protect the engine from damage, thus increasing its lifespan. That said, you should always monitor the oil level each time you want to practice the generator. As with most generators, it is suggested to occasionally run the engine for a couple of minutes when not practiced for a long time.
Usability:
The new inverter technology used in this generator increases efficiency and makes for more excellent usability. At the heart of this unit's control panel is the control panel placed on the inverter's front side. The board incorporates an on/off switch, an identical 'econ' (economy mode) switch, a breaker, indicator lights, and a choke. All are marked and easy to reach.
The panel also has two AC outlets giving a combined 120V, along with an AC circuit breaker. There's one 12V DC receptacle for carrying batteries and other battery-powered electric devices but no DC circuit breaker. Worth seeing is the fact that a voltmeter is conspicuously refraining from this control panel. However, given the inverter output capacity, any fluctuation in voltage is very unlikely.
An inverter will both work or fail. Generally, there is not enough in-between as the inverter is made of industrial electronic components. When practicing the Champion 2000 Inverter Generator in a heaped format with a second unit, an optional parallel power kit fits the two stacked teams. The kit comprises two 120V sockets; one a TT-30R for RV purposes and the other a standard L5-30R.
The Champion 2000W uses a standard recoil start handle to start the engine. A single pull is enough, but most times, it takes two forces to get the engine up. The lack of an electronic start keeps the unit light and low on maintenance requirements. Begin the generator, make a quick, stern pull until you feel a bit of endurance in your arm.
Preferably place the freehand on the generator as the other hand continues the recoil handle. Before beginning the generator, turn the engine switch on and the conservation mode switch off. The same safety forethoughts that apply to other generator start methods apply here as well. Be sure to peruse the safety guidebook enclosed with the shipment if it is your first time running the generator.
Maintenance:
The Champion 73536i is a low-cost generator built for budget users. Maintenance is very manageable (cost-wise), provided you follow the recommended operating procedures—the unit ships with a service manual in case you need to do the periodic servicing yourself. In fact, for businesses such as checking spark plugs, spark arrestor, oil filter, fuel tank cleaning, and oil level, you should check this yourself if you are a bit handy.
For valve and cylinder head support, you should see your local dealer or hire a generator technician. How often should you service the 73536i? That depends on how regularly you use it, but generally, the recommended preservation checklist looks like the one here:
Check and renew oil within 24 hours of first use.
Check and replace the oil filter after 50 hours of running.
Check the spark plug and spark arrestor following at least 50 hours of running.
Clean the parts that need cleaning after at most limited 100 hours of running.
Don't drain water into the engine. Use a cloth to clean the surfaces clean.
Before you start any preservation checks, be sure to power off the engine. Check that you have the required tools. You'll need to get off at least one side panel to locate the parts on the inside. The 73536i comes with a 2-year limited guarantee for defective parts.
Features & Specifications
It is a pretty powerful little portable generator with a running wattage of 1700 Watts.
As an inverter generator, it provides a steady power supply, making it suitable for your electronic devices.
Power up with the reliable recoil start, plus Cold Start Technology ensures a quick start in cold weather.
The optional clip-on parallel kit allows this inverter to connect with another 2000-watt Champion inverter to increase your output power.
Includes two embraced 120V 20A household outlets with clean electricity (less than 3% THD). Confidently connect your sensitive electronics since this inverter produces Clean Power (< 3% THD). Designed for safety with a low oil shut-off sensor, this model has a 0.5-quart oil capacity.
This Champion Power Equipment 100692 operates very quietly, creating a sound of 53dB at 23 feet.
Weighing in at just 39 lbs., this lightweight Champion generator is extraordinarily lightweight and portable.
Being a single-phase generator, the Champion 100692 generator is suitable for residential use and maintains an equal distribution of current throughout your house.
You can parallel two of these Champion inverter generators with an extra parallel cable for added power.
Fuel Tanks Size: 1.05-gallon gasoline
Run time: 11.5 hours at 1/4 load.
Economy Mode: engine automatically idles lower when the electrical load is reduced, saving you fuel and engine wear.
When the 1.05-gallon tank of gas is full, this inverter will operate up to 11.5 hours at 25% load.
Fully assembled with a hassle-free setup, the built-in carrying handle makes transport a cinch.
Buy this EPA-certified and CARB-compliant generator with confidence.
Includes 3-year limited warranty with FREE lifetime professional support from dedicated experts
Using gasoline, the 79cc Champion engine produces 2000 starting watts and 1700 running watts.
Great little generator for home use, tailgating, camping, RV, carnivals, worksite, and more.
Pros
It is very affordable. The 73536i is challenging to beat in terms of price in the 2000 watt generator category.
Uses new inverter technology that provides clean power.
It runs quiet, making it perfect for campsites, tailgating, RVs, and other outdoor use.
It has features that provide added protection to prolong the engine's lifespan.
Stackable design increases total wattage output.
Light-weight and easy to carry design. It has a built-in handle that's part of the encasing.
Cons
At 2000 watts beginning, the 73536i is somewhat restricted in capacity. It is offset by the capacity to run two in parallel.
The unit neither has a gas nor oil drain. Emptying the gas container can be a hassle when the need arises.
Best Inverter Generator Final Verdict

When you're purchasing an inverter generator, it's imperative to think about the situations you will or may want to use it in. Though there are plenty of inverters on the market, the one that's the "best inverter generator" will be so because it's the most beneficial for you.
The best way to go about shopping for an inverter generator is to establish what highlights you want and need most. Every generator on this list can contribute a fair amount of stable power once you start it up, and you can trust that you'll be able to apply it for at least nine hours. But that is certainly not the only point you need to take into serious consideration when you're purchasing an inverter.
Best Inverter Generator Video Illustration