Top 10 Best Mattress Toppers for 2023 Review's, Buying Guide & FAQ's
The best Mattress topper is usually several inches thick and sits right on top of your mattress. A mattress topper's goal is to make your bed more comfortable, whether adding firm support or pillowtop softness.
The right best mattress topper can provide you pillow-like softness if your bed is too hard, or add firmness if you require more support. There are even cooling benefits if your mattress gives you night sweats and ones with pressure-relieving memory foam for somebody with back pain.
Best Mattress Topper
Here is a list of the best mattress topper
MyPillow Mattress Bed Topper
Tempur-Pedic TEMPUR Supreme Medium Firm Mattress topper
Sweetnight Mattress Topper with Waterproof Mattress Protector
Sealy SealyChill Gel and Comfort Pillowtop Memory Foam Mattress Topper
TOYABR Gel-Infused Memory Foam Mattress Topper
LUCID Gel Memory Foam Mattress Topper
Best Price Mattress Memory Foam Mattress Topper
LUCID Down Alternative and Gel Memory Foam Mattress Topper
Sleep Innovations Dual Layer Gel Memory Foam Mattress Topper
Sleep Innovations Gel Memory Foam Mattress Topper
Our Recommendation
"Without enough sleep, we all become tall two-year-olds." – JoJo Jensen
1. MyPillow Mattress Bed Topper
Best Mattress Topper For Cooling
Mattress toppers are often needed by those who feel their mattress surface is too soft or too hard. They can help extend their mattress's life as well, serving as both protection and additional support. This particular product comes in a wide variety of sizes to fit any bed, is made with a quality foam layered design, and evenly distributes body weight.
Considered a simple design, it does not have any bells and whistles but depends on the design's material and quality to provide comfort where needed. It also is supposed to help with heat regulation without the use of wires or tubes.
Layers
Cover Layer: The cover is made of phase change material, which regulates temperature and means the topper doesn't retain heat against the body.
Layer 2: The first comfort layer is MyPillow patented foam that is supportive and ideally medium-firm so that it doesn't degrade, but supports the spine.
Layer 3: The next layer is a transitional foam that relieves pressure points and adapts a bit to the body. It is designed to distribute weight and cradle the spine without contouring too much.
Material
The zippered, phase transformation temperature regulating cover is an integral part of the three-layer design. This material is meant to help pull heat from your body to consume it away, as well as recognized for excellent airflow- providing breathability and a supplementary cooling effect.
Furthermore, it has an accurate, hidden zipper to provide removal for easy laundering. The material is deemed machine washable and dryable- although with any temperature phase materials it is most suitable to tumble dry on low or allow for hanging dry.
Corner straps
Rather than create a casing including a no-skid plasticized bottom that can interrupt airflow, or merely expect you to practice your bedding to keep the topper in place. This product has four corner straps that fit sung beneath your mattress to keep the pad from moving. These straps are sewn securely to each cover's sides to avoid being stretched out or pulling free- primarily when used with an adjustable bed.
Easy to move
Like most toppers, this comes vacuum sealed and rolled – in which it expands when released. Getting it rolled as tight as it reached is pretty much an impossibility. The simple design is constructed to easily fold to move out to a camper or stored in a trunk to take when traveling if napping comfort is a concern elsewhere. Many bed toppers have added details that obtain them hard to fold or roll, but this one is made to be portable if needed.
Top Features
It is made up of 3 unique layers to help give you the best sleep ever.
MyPillow's patented foam provides superior support and durability.
The transitional foam helps relieve pressure points to provide optimal comfort.
The patented cover is built with Phase Change technology to help keep your body temperature regulated throughout the night.
Zippered Removable Cover remains washable and dryable.
Four corner straps to secure your topper in place
No wires, remotes, or moving parts
Pros
Medium-firm feel with ample comfort and support
The adaptive poly-foam top layer is there alone with a 2″ firmer transitional poly-foam bottom layer.
Four elastic corner straps for extra stability hold the topper in place that works with any mattress.
Portable and can be exercised to dorms, hunting, camping, RV's, trucks
No wires, remotes, fans, hoses, or mobile parts
Comes in seven convenient sizes
Cooling phase-change cover concerning sweat-free sleep
Total motion isolation for zero disturbance
The zippered detachable covering is washable.
Suitable for average-weight and heavier users
60-night trial including full product returns and 10-year warranty
Cons
Too firm for few users who prefer softer surfaces
Might sag slightly for heavier users
Very inconvenient for lightweight stomach sleepers
The packaging is not convenient for easy return
2. Tempur-Pedic TEMPUR Supreme Medium Firm Mattress topper
Best Side Sleeper Mattress Topper
The topper arrives in a good variety of sizes twin through CA king, including twin XL and double-sized options- sizes often left out by other companies. This topper is dense, durable, and seems like a mini-mattress. It's approximately 30 lbs., three inches thick, and it makes an excellent replacement for a mattress when you're camping or you have an overnight guest. The foam adapts well to the body without sinking too deeply, and it has excellent medium-firm support overall.
Material
It is proprietary memory foam called TEMPUR material. It's composed of millions of moveable cells intended to cushion and support your body by evenly distributing your body weight. The topper is a complete 3 inches in thickness and allows for a very plush, luxurious feel overall.
It seems like proper memory foam but is not dense to the point of a hard surface, nor is it unsupportive. It also shifts well with movement and does not bottom out at all when you lay upon it.
Machine removable Cover
The cover is a knit-polyester blend that is breathable and moisture-wicking. It is delicately stitched with small hexagons and the Tempur-Pedic logo along the top and has a thick, canvas-like bottom to provide grip against your mattress.
Dust-mite and allergen resistant, this cover provides both protection and comfort, plus it removes easily for laundering. Because of the cover, it's easy to give the surface of your topper a deep clean. Just unzip it from the topper, throw it in your washing machine on a cold water setting, and then hang it to dry. Read our review on Best Affordable Mattress.
It is excellent for anyone who enjoys sipping coffee in bed but is also a little clumsy. The foam is encased in a fine polyester mesh that allows for comfortable airflow and keeps the cover from setting directly on the foam. It allows for further protection and skillfully keeps the material from clinging to the foam.
Lay-Flat Zipper
The lay-flat zipper stretches along one whole end of the topper and extends about a quarter of the way down each length to provide easy removal. The thicker bottom material coupled with the thin mesh foam casing allows you to quickly pull the case off and get it following on without having to push and shove it back into place.
The foam shouldn't be washed, and this topper is no exception. Water can start to break down the cellular structure of foam, plus it is challenging to dry thoroughly, leaving behind moisture that can easily mildew and mold. If you necessitate to spot clean your topper, do so and blot up as much water as possible before allowing it to dry completely.
Top Features
Designed with the identical pressure-relieving TEMPUR material found in our mattresses, this 3-inch memory foam mattress topper adapts to your body to deliver more restful sleep.
TEMPUR material responds to your body's temperature, weight, and shape for precise, personalized comfort and support.
Say bye to dirt, dust, allergens, and dust mites with a breathable, machine-washable cover.
The conforming mattress topper is not only the ideal way to upgrade your bed but also enhances comfort in guest rooms, dorm rooms, travel, and more.
More durable than the average memory foam mattress topper, our innovative, proprietary material is meant for ages of long-lasting comfort that won't let you down.
Pros
The three-inch mattress is enough to change the feel of your mattress significantly.
The best mattress topper's detachable cover is washable in cold water.
It is also highly immune to dust mites, mould, allergens, and other potentially harmful substances.
The best mattress topper begins with a 10-year limited warranty.
It's versatile and will work with practically any type of mattress.
You can even use the topper while camping and in recreational vehicles.
The TEMPUR-Topper Supreme will deliver optimum spinal alignment and pressure relief.
Cons
Some stomach sleepers think their hips sink too deeply into the topper, pushing their spine out of alignment.
Those people who tend to sleep hot may want to choose different options as it traps heat.
you may feel stuck in this mattress topper
3. Sweetnight Mattress Topper with Waterproof Mattress Protector
Best Feather Mattress Toppers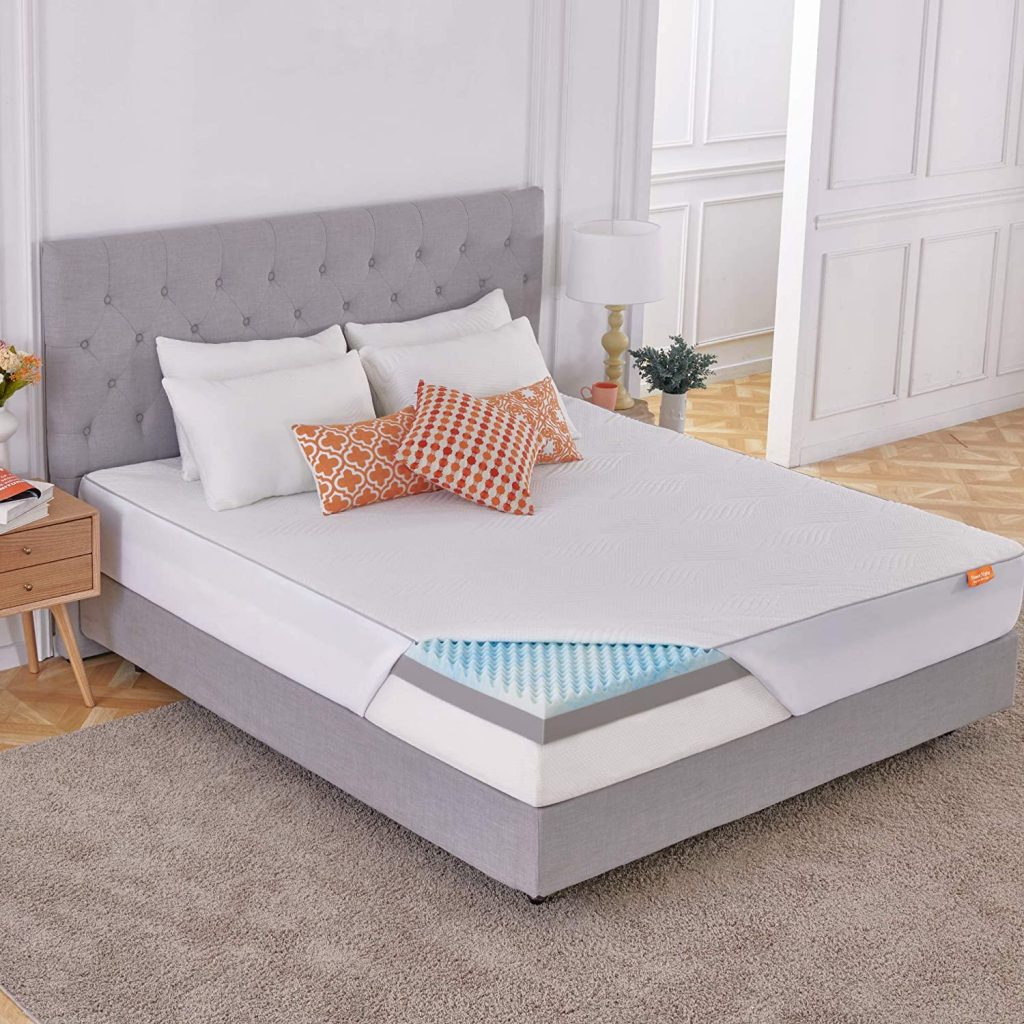 The 4-inches Medium Firm Sweet Night Mattress Topper presents all the benefits of a new, high-quality memory foam mattress at a portion of the price. It is your best bet to enjoy absolute comfort, support, and breathability on a budget. Underneath the essential hypoallergenic bamboo fiber with OEKO-TEX-certification lays the perfect mixture of cool gel memory foam and bamboo charcoal foam.
The egg crate pattern enhances the foam's cooling and supportive properties, assuring excellent ventilation and targeted pressure-point relieving comfort. Each Sweet Night topper arrives with a waterproof mattress cover with an 8" – 18" deep-pocketed sheet layout and four convenient bed sheet holder straps.
Design
The premium memory foam mattress topper is available with a waterproof mattress protector, plus four-bed sheet holder straps that present a versatile choice for your sweet home. Start to rejuvenate your mattress with this comfortable foam mattress topper and enjoy your night with your loved ones.
Firmness
The Unique 4-inch full-size mattress topper combines the comfort of gel-infused memory foam and bamboo charcoal foam's support. It not only can absorb moisture but also can help prevent body aches caused by "SINKING". Besides, it includes a removable & washable zippered cover to protect the foam. Prolong your mattress life and get the quality sleep you deserve.
Waterproof mattress protection
In an accident involving any liquid substances, the waterproof TPU membrane layer of the protector ensures your full mattress topper review and mattress are safe while blocking off stains, urine, and sweat from the bed mattress. It is entirely silent and produces no crinkling sound.
Straps
The mattress topper full can be used either alone or in combination with our mattress protector. This full-size mattress topper is the perfect way to upgrade your bed and is great for guest rooms, dorms, Travel, Camping, and RV & Trucks. The fitted sheet pattern can accommodate depths up to 8-18 inches; Adjustable bed sheet holder bands secure the covering on your mattress tightly, without fretting about its moving randomly.
30 days guarantee
Foam test, OEKO-TEX & ISPA strictly verify our gel memory foam mattress topper. Also backed by a 5-year limited guarantee and 24/7 EXCELLENT Customer Service, you can contact us for support at any time. Read our review on Best Mattress For Heavy People.
Top Features
The premium memory foam mattress topper, including a waterproof mattress protector plus four-bed sheet holder straps, presents it as a versatile choice for your sweet home. Begin to rejuvenate your mattress with this luxurious foam mattress topper.
Their unique 4-inch mattress topper fuses the comfort of gel-infused memory foam and bamboo charcoal foam's support. It not only can consume moisture but also can help prevent body aches caused by "SINKING". Besides, it involves a removable & washable zippered cover to preserve the foam. Prolong your mattress life and perceive the quality snooze you deserve.
Their premium mattress protector possesses an innovative bamboo fiber surface and waterproof TPU membrane layer that preserve dust, fluids, urine, and sweat from the mattress topper, providing a cleaner and more comfortable sleeping. With a noiseless design that doesn't disturb your sleep, enjoy a nice and cozy slumber.
The adapted sheet's deep pocket design can accommodate depths up to 8-18 inches. Flexible bed sheet holder straps secure the sheet on your mattress tightly, without stirring randomly.
Multi-function Topper: Our memory foam mattress topper can be utilized either alone or in union with the Sweetnight waterproof mattress protector.
Pros
Egg crate design
Bamboo OEKO-TEX-certified cover
Cool gel memory foam & bamboo charcoal foam
Delivered with mattress protector and bed sheet holder straps
Five years warranty
100-days sleep trial
Free shipping
Convenient compressed packaging
It is expertly made with high-quality materials.
It comes with a waterproof mattress protector.
This mattress topper is durable and versatile.
Cons
It can be better with a little more firmness.
4. Sealy SealyChill Gel and Comfort Pillowtop Memory Foam Mattress Topper
Best Mattress Topper For Low Back Pain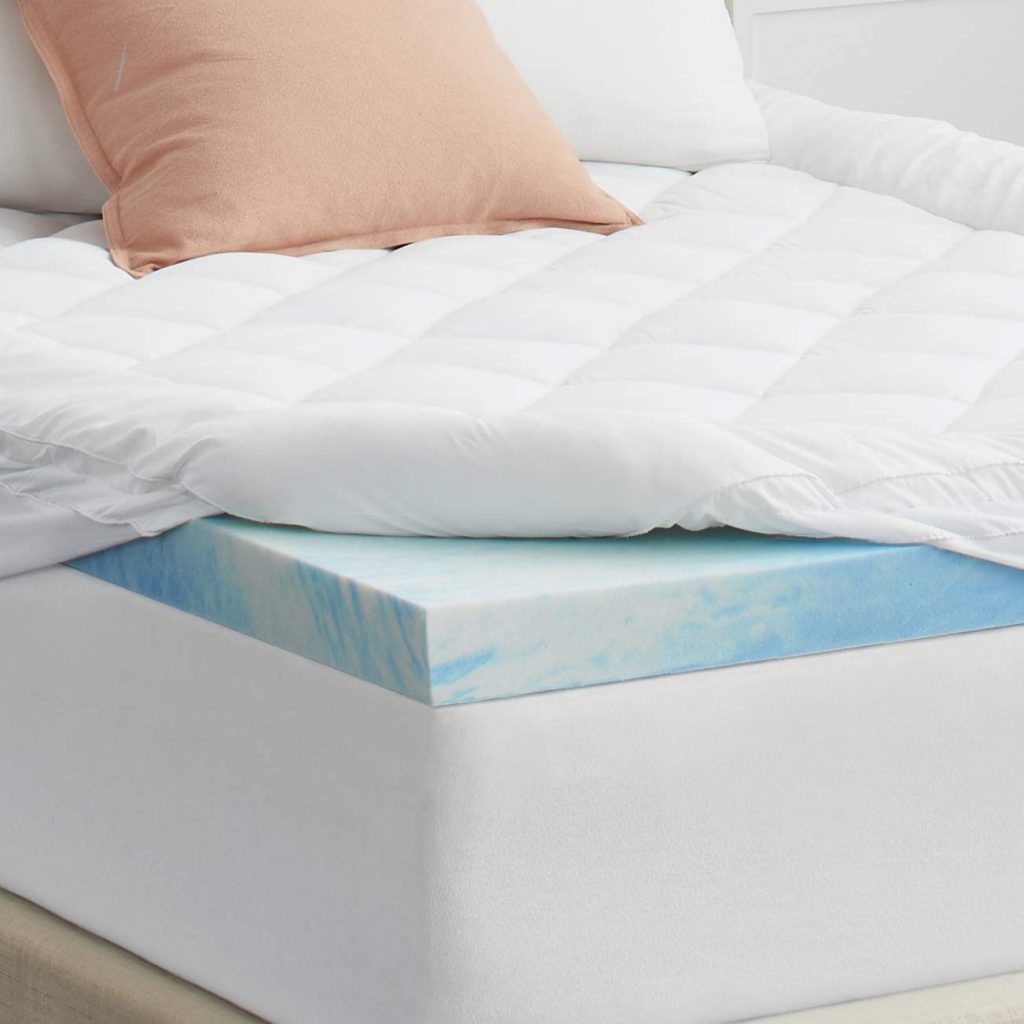 The 4" topper features SealyChill Gel-Infused Memory Foam – a mixture of gel and conforming memory foam that helps provide adaptive comfort and support. The premium memory foam conforms to your unique shape for personalized comfort, while the gel infusion promotes a more relaxed sleep experience.
The 1" pillow top down-alternative cover pairs with 3" of responsive gel-infused memory foam for the ultimate cushioned comfort. Plus, you can rest assured knowing this memory foam has been CertiPUR-US certified – meaning it is made without ozone-depleting chemicals. The topper comes conveniently compressed and packaged for easy transport and setup. Unbox, unroll, and unwind.
Layers
1″ down-alternative pillow top cover presents an added layer of plush comfort. The covering helps hold the topper firmly in place. 3″ of gel-infused memory foam helps provide adaptive comfort and support, plus promotes a more relaxed sleep experience. The cover is included and is removable and machine washable for easy care.
Heath benefits
A gel-swirl mattress topper provides a simple solution to enhance any sleep surface with an added comfort and support layer. It promotes the more proper backbone alignment while adapting to your body shape. It also presents prim support to your head and neck.
Shipping
The topper comes nicely compressed and packaged for easy transport and setup. Unbox the topper, unroll it, and lay it flat on top of your mattress for a more comfortable sleep within minutes. The compact and mattress properties of this topper aid inconvenient shipping and easy setup. It also instantly enhances any mattress surface.
Production
The mattress topper foam is CertiPUR-US certified, meaning it is made without ozone-depleting chemicals. Foam is made in the USA, along with other components.
Top Features
A gel-swirl mattress topper provides a simple solution to enhance any sleep surface with an added comfort and support layer.
1" down-alternative pillow top cover provides an added layer of plush comfort. The cover helps hold the topper firmly in place.
3" of gel-infused memory foam helps provide adaptive comfort and support, plus promotes a more relaxed sleep experience.
The cover is included and is removable and machine washable for easy care.
The topper comes conveniently compressed and packaged for easy transport and setup. Unbox the topper, unroll it, and lay it flat on top of your mattress for a more comfortable sleep within minutes
Pros
A pillowtop cover for an added layer of plush comfort
Gel-infused memory foam helps implement adaptive comfort and support.
Includes removable cover and machine launderable for easy care
Comes conveniently compressed and packaged for secure transport and set up
Stretch-to-fit mattress skirt
Silky soft woven fabric
Fits most mattresses up to 16" deep
4" memory foam, 3-lb. density
Moulds to your body for extra support
Open-cell design maximizes airflow.
Temperature-regulating technology
Cons
Lack of transparency around which material is used for making the topper.
Most people feel hot during the night
5. TOYABR Gel-Infused Memory Foam Mattress Topper
Best Organic Mattress Toppers
TOYBAR Memory Foam Mattress will help you enjoy a more comfortable, better night's sleep. Layers of cooling and cushioned foam top the mattress for the perfect blend of softness and support, and you can get a restful night of sleep.
Gel-Infused Memory Foam
Gel Memory Foam Lumbar Support feels plush and supportive where you need it most. The Premium gel memory foam layer helps reduce heat buildup along the sleep surface. Firm comfort without feeling rigid, thanks to materials that cradle with custom contouring. Suitable for various sleeping positions to make you sleep peacefully. Using high-density memory foam to ensure the longevity of our mattress
Fitted Premium Rayon Cover
The rayon cover is equipped with anti-slip mesh backing to prevent sliding, and adjustable straps to fasten the topper better. The Cover helps extend your old mattress's useful life and saves you from buying an expensive new mattress. We are certified with Oeko-Tex, No Stimulation, No Pollution. We promise all material environmental health.
CertiPUR-US standards
All foam and materials are within CertiPUR-US standards and contain zero harmful chemicals: no Formaldehyde and low VOC.
Top Features
Ventilated holes for calm: there are ventilation holes in gel-infused material, permitting air to circulate, promptly dissipate heat, and putting your body at an ideal temperature during sleep without feeling overheated.
Washable cover for easy care: the topper is outfitted with a removable and washable bamboo cover to limit dust and stains, keep the topper clean and increase the topper's life while reducing the pressure housework.
Gel-infused memory foam: we use 3.5-pound density gel-infused memory foam, soft yet supportive, providing you with good luxurious sleep. The topper conforms to your body, lightens pressures, relieves your body pain, and presents you fall asleep quickly and wake up well-rested.
Designed for multiple usages: the topper is foldable and comfortable to carry. It can be used in camping, hotels, academy dormitories, and so on with convenience. It additionally can be used to upgrade your old mattress and inexpensively attach to your comfort.
Guaranteed after-sales service: we offer a 10-year warranty. If there is a query with your order or are not 100% satisfied during this period, please contact us immediately to resolve it for you promptly.
Pros
Ventilation Holes
Removable Cover
Comfortable Feeling
Adjustable straps
Anti-slip mesh back
Strong applicability
High-quality materials
Easy to install and remove
Cons
Warms up after a little time.
6. LUCID Gel Memory Foam Mattress Topper
Best Mattress Topper For Heavy Person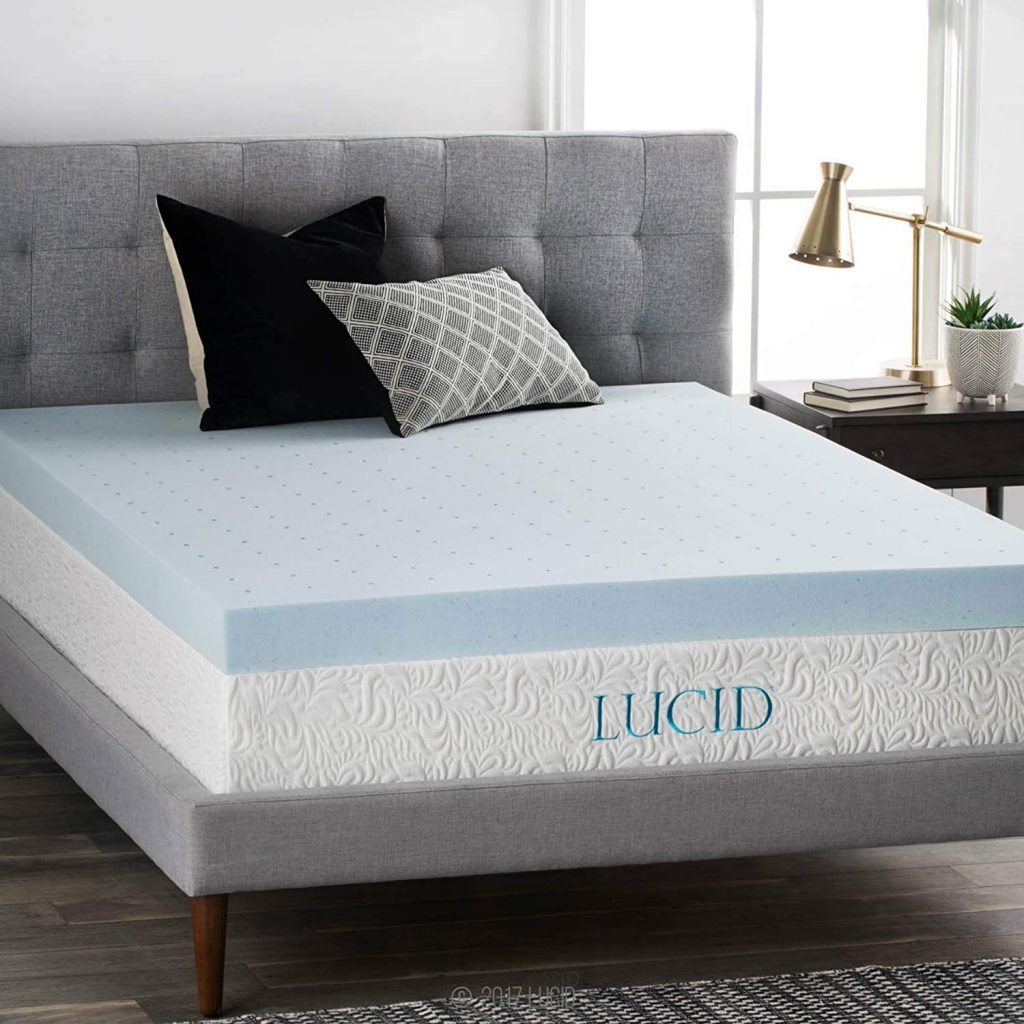 The LUCID 4 Inch Gel Memory Foam Mattress Topper adds new life to and enhances an existing mattress's comfort. LUCID's thickest mattress topper, this ultra-thick comfort layer is made of plush, gel-infused memory foam for supreme comfort.
LUCID memory foam compresses evenly beneath the body's unique weight and shape, conforming to curves to relieve pressure at the shoulders and hips. Top-quality foam is infused with advanced gel material that attracts and distributes heat for a more comfortable sleep temperature. Mattress possesses a ventilated design that improves breathability for refreshing sleep.
Density
The denser the foam of the topper, the more foam is utilized in a given area. If the foam is denser, it's more massive and presents better support to sleepers. Thicker mattress toppers assist in alleviating pain and relieving pressure points.
The Lucid 4-inch memory foam mattress topper has a density of 4.5 lbs., the average density for averagely-weighted bodies, suits side, back, and stomach sleepers. It's a fantastic choice for sleepers with back and muscle pain, as it provides excellent body support.
Firmness
If your bedding topper is too soft, then you'll probably descend into it, but if it's too firm, you might undergo back pain resting on it. Consequently, it's best to find the right balance between firmness and softness to beget adequate support for your body.
A perfect combination of firm and soft features helps avoid pain caused by the accumulation of pressure points, and it holds your spinal cord in proper alignment. The 4-inch mattress topper has an exemplary level of firmness and softness, giving you the optimal comfort to quickly fall asleep. You'll wake up feeling untroubled and refreshed, ready for a new day.
Open-cell technology
This Lucid 4-inch topper is also built with open cell technology, allowing it to recover to its original shape immediately and avoid permanent impressions. You might know that a bedding topper's right level of firmness is worth gold for healthy sleep.
For instance, sleepers with low body weight will possess little pressure on the toppers. Thus the shoulder and hip will not drop deep enough into the mattress to achieve a relaxed sleeping position. Therefore, a firm topper wouldn't be the most suitable choice for them.
On the contrary, those with higher weight increase pressure on the toppers and sink more rooted in the firm surfaces. The higher your body weight is, the better your mattress topper should be. And this law applies to mattresses as well.
Heat retention
The Lucid gel memory foam bedding topper doesn't grasp heat as it is infused with gel material to capture and disperse heat for a cooler sleeping surface. Besides, it is also a vented mattress topper that provides better air circulation. Hence you will own memory foam with better airflow and breathability.
If you usually experience night sweats or do not like warm summer nights, a cooling mattress like the Lucid 4-inch queen mattress topper can help regulate your bed's temperature for a good night's sleep.
Safe and environmental-friendly
As long as you choose toppers constructed from safe materials like the lucid 4-inch mattress topper, you can rest well, without worrying about the detrimental effects that its creation process can have on the environment and your health.
The Lucid 4-inch queen mattress topper is CertiPUR-US certified. They're performed without using any harmful substances like phthalates (a substance that can cause damage to the lungs, kidney, and liver) or formaldehyde (the chemical that irritates the eyes, nose, throat, and causes some types of cancer).
Top Features
4 inches of thick, sumptuous gel memory foam add a soft and conforming feel that will result in a deeper sink that cradles your body more than a thinner topper
Infused with gel material that captures and distributes heat for a more relaxed memory foam experience
Ventilated design improves airflow and breathability. Hypoallergenic
Memory foam disperses weight evenly and conforms to curves to alleviate pressure points
The new foam scent is typical and will dissipate over the first 48 hours after opening; this product features a 3-year warranty
Pros
Affordable price
Gel-infused
Heat retention is minimal
Well ventilated
Cons
It is not too dense
Arrives without a cover
7. Best Price Mattress Memory Foam Mattress Topper
Best Mattress Topper For Shoulder Pain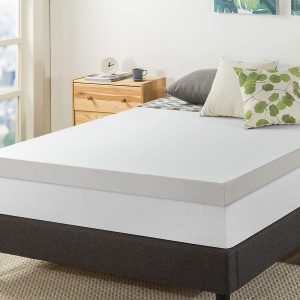 The topper itself has filled with memory foam alone, so it isn't infused with gel. It will give you just the correct amount of support and do wonders if you have neck and more profound back pain. It is also essential to notice that this topper is CertiPUR-USA certified. It means that no dangerous chemicals or materials were used to manufacture this product and are safe to use in your home.
Construction
The first layer is 1.5-inch thick, and it is loaded with memory foam while the remainder of the topper consists of 2.5-inch high-density base foam. The whole topper is covered in 100% polyester mesh. It will commence reacting to your temperature as early as you lie down and form around your body's shape.
Since this memory foam topper is not implanted with gel, it might be problematic and unpleasant to some users. Cooling down will be a bit slow. The cover that it comes with is not the best quality. It's thin and lost some of its structure after washing.
Comfort
This topper will spread your weight evenly on the surface, so it is instant relief for people experiencing lower back pain. It does offer plenty of support. So if you were owning trouble sleeping due to discomfort in your joints, the Best Price 4" Memory Foam Topper will support you out a lot and provide you with quality sleep throughout the night.
Heat Retention
Since this topper is composed of memory foam and is not gel infused, you can expect lower ventilation levels because memory foam is known for retaining heat, big time. However, you would be pleasantly surprised by being relaxed and comfortable the entire night. So heat retention is quite immeasurable, ventilation works, and the airflow is unobstructed. And the mattress will cool down as promptly as you get up, so it is evident that the memory foam is performing its job.
Warranty
Memory foam toppers regularly have a one-year warranty, but it seems like Best Price believes in their products which previously says a lot about the overall quality. You will earn a five-year contract with your purchase. So if there is anything wrong with your topper in that time frame or are unsatisfied with the result, contact Best Price, and the problem will be fixed.
Top Features
This mattress topper is constructed of a memory foam measuring 1.5 inches and a high-density foam marking 2.5 inches.
The memory foam of this product can form its shape to follow the shape or size of the person's body who is utilizing it. It will ensure that whoever sleeps or lies down on its cover will not feel any pain following using it for a few hours.
Its foam is also recognized for its capacity to respond to the user's body temperature while sleeping down on its surface. It will help keep you chill while using it.
Unlike other bedding toppers out there, Best Price Mattress 4-Inch Memory Foam Mattress Topper (queen-size) issues with a polyester Mesh zippered cover. It is a bonus most homeowners discover appealing.
It arrives with a 5 -year warranty, which only confirms that the product is durable and decently manufactured using high-quality standards and procedures.
Pros
Its memory foam provides exceptional comfort to every homeowner. It is what you are paying for should you decide to use the Best Price Mattress 4-Inch Memory Foam Mattress Topper (queen-size).
This product will let you continue hygienic, as a mattress topper is simpler to clean or maintain.
The 4-inch thickness of this mattress topper will present better comfort than thinner mattress toppers in the business.
Best Price Mattress 4-Inch Memory Foam Mattress Topper (queen-size) will undoubtedly improve your sleep any time of the day. It is due to the softness of the foam that is used for this mattress topper.
Cons
Some clients claimed that this product sags easily after a few months.
8. LUCID Down Alternative and Gel Memory Foam Mattress Topper
Best Mattress Toppers For Dorm Beds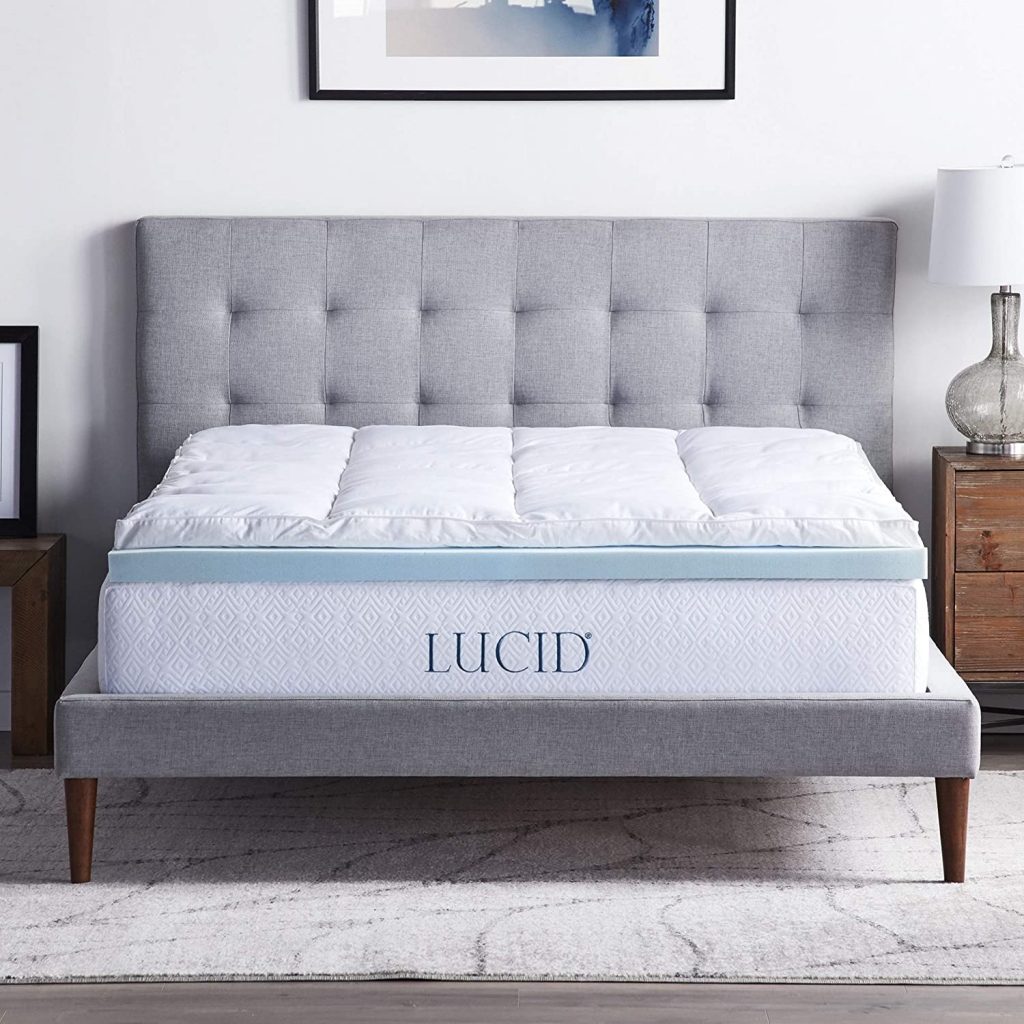 The Down Alternative Topper comes with gel memory foam benefits, with its combination of filling down-alternative microfibers and contouring gel-infused memory foam. Overall, this is excellent for those that want a pillow top experience but don't currently possess one with their current mattress. Most liked their Lucid down alternative topper, but some yearned for more support.
The Down Alternative and Gel Memory Foam Mattress Topper are created of two distinct layers. The top layer has two inches of down alternative fibre, and the bottom tier is two inches of gel-infused memory foam. The top layer is implemented over the mattress like a fitted sheet to keep the topper in place.
Support
In the Down Alternative and Gel Memory Foam Mattress Topper, these two materials act in concert to give your body support. The fiberfill adds inviting softness while the gel memory foam cushions your body in the places where it's most needed.
Lucid's mattress toppers are all focused on implementing more significant pressure point relief and are each, therefore, very soft. However, they do have more responsibility than other toppers elsewhere when it arrives to initial comfort, which means that most won't sink in too far.
Conforming
This topper features a layer of down alternative fiberfill and gel memory foam. The alternative down layer can provide a plusher feel while the gel memory foam layer delivers conforming and pressure relief.
Since Lucid's focus is essentially pressure point relief, spinal alignment is less of a priority here. It means that if you don't have enough support with your current mattress, the toppers will likely not give you the additional support you need.
Temperature Neutrality
The down-alternative layer of the topper confers more breathability to this topper, and the gel foam clutches less heat than traditional memory foam. Notwithstanding, hot sleepers may still find this topper to include too much eat for their liking.
Except for the non-infused memory foam toppers, these should sleep relatively calmly. Some hot sleepers or those in warm environments still may experience some heat retention.
Motion Isolation
While slight motion transfer may happen in the alternative down layer, the gel memory foam layer lessens the amount of motion so that most couples are likely to spawn sleep disruptions from one person moving in bed.
Top Features
Customize your level of softness and support by inverting the topper and alternating the smooth or convoluted view of the removable gel memory foam layer
Box-stitched construction of the alternative down covering ensures consistent loft and breathability
2-inch down-alternative layer and a plush 2-inch layer of gel memory foam blend for premium comfort
The down-alternative portion of this topper is 100 percent cotton machine washable and dryer safe
Ventilated, gel-infused, and hypoallergenic memory foam regulates body temperature and contours to support your body; Please allow the topper to decompress for 48-72 hours in a ventilated room to attain its 4″ thickness
A fitted sheet-style design secures the memory foam layer in place ensuring a smooth and comfortable fit
Can be used as a fibre bed gel memory foam topper or down-alternative and gel memory foam topper
The intricate design and cooling gel material enhance memory foam's airflow and temperature
The dual-layer mattress topper highlights two inches of soft, hypoallergenic down alternative capacity and two inches of convoluted, gel-infused memory foam for customized comfort
Removable 250 thread count cotton sheet is machine washable and dryer safe
The mattress can be folded anytime.
Zipper included: No
Bottom fabric: 100% polyester
Pros
Cooling effect throughout the night.
Stretch skirt
Meets most mattresses up to 25-in. deep
The down-alternative cushion top and the gel memory foam topper collectively create a refreshingly soft and relaxed sleep surface.
Wide variety of topper options
Various thickness choices
Most toppers deliver excellent conforming and pressure relief.
The 2-in. pillow tops hypoallergenic fill parodies the comfort of traditional down externally of any of the associated allergens.
The 2-in. gel-infused memory foam adds structure and assistance to your mattress by cradling your body's main contact points
Cons
Some toppers may be too soft to hold heavier-weight sleepers.
Most toppers have limited bounce and may impede intimate activity
9. Sleep Innovations Dual Layer Gel Memory Foam Mattress Topper
Best Mattress Topper For Sofa Bed
This memory foam topper provides a fluffy level of comfort. The fiberfill comfort layer is like resting on a giant pillow. It connects right to the bottom 2" gel memory foam layer so that it's not propelling around. This topper is also best recognized for its ability to chill you down. The cooling gel memory foam layer helps maintain your temperature regulated for a quiet night's sleep.
This product is an excellent solution for those who relax warm or have mild back pain. The memory foam layer is created to relieve painful pressure points and keep your spine in its natural alignment. Not to consider, it's also great for adding comfort to former, worm-out lumpy mattresses. Although you are looking for something to present your bed more firm, this won't do the trick, and it will execute it softer.
Construction
The construction of this topper is pretty generous with the elastic edges that wrap around the memory foam. The structure helps to keep the top layer in place. The fiberfill cover is soft and squishy, not firm. It has the texture of a microfiber-type comforter. The stitching of the fiberfill top is quite simple and looks like a single stitch.
It could escalate to fiberfill falling out and making that layer less comfortable. The 2" gel memory foam layer seems pretty durable. When you are squishing it, it looks to bounce back well and doesn't just stay in one shape. This layer is the support layer, and the fiberfill topper is just for comfort. The gel layer aligns the spine and is ideal for back, stomach, and side sleepers.
Heat retention
The memory foam topper has a cooling effect on the body as per the claims of the company. How the topper affects your bed's temperature will ultimately depend on what kind of mattress you are currently sleeping on. In most cases, this topper helps to fight the heat. The fiberfill top allows it to breathe, permitting air to circulate while the gel-infused memory foam on the bottom helps spread that heat away from the sleeper's body. Review on Best Mattress For Side Sleepers.
Firmness
Any sleeping product's feel and firmness is arguably the most critical factor when deciding whether or not to buy. In the event of the Sleep Innovations 4-inch Dual Layered Topper, that is even more remarkable. It is a hybrid topper constructed from two different elements and separated into two distinct layers. This section will disappear deep and give as much insight into the feel and firmness as feasible. But always remember – reckless of our professional ideas, the feeling and firmness of any sleeping result is very subjective and changes a lot from person to person.
Motion Transfer
Some folks wake up to any movement that happens on the surface of their bed. It is where motion isolation can come in handy. Products that score well with motion transfer can anchor these movements to their spot of origin. Because memory materials are so absorbing, it holds motion at their source. For this reason, folks wanting to reduce motion transfer on their bed really might enjoy the qualities this product offers.
Top Features
This 4-inch mattress topper highlights a dual-layer of quilted fiberfill and gel memory foam. We have personalized luxurious comfort for all-night support.
Help keep your bed fresh with materials suitable for you and your sleep.
For the ultimate upgrade, get twice as comfortable. Experience the pillowy comfort and lightness of 2-inches of quilted fiberfill, plus the all-over comfort of a second 2-inch layer of gel memory foam.
Our gel memory foam is specially planned to ensure you stay cool all night. Drawing heat away checks you at an optimal temperature for a full night of undisturbed sleep.
Comfort that's convenient – our readily removable, machine washable cover means your topper stays neat. And the snug fit retains everything in place.
This Sleep Innovations mattress topper is haughtily made in the USA and comes with a 10-year limited guarantee. Conveniently vacuum packed for shipping and easy handling. From box to bed, fixed up couldn't be easier.
Pros
Hybrid, dual-layer topper
Can use both layers together or individually
Soft to medium firmness
Supportive
Regulates temperature well
Comfortable
Affordable
Cons
The Fiber-fill layer captures heat.
Not 100% memory foam product
Poor-quality mattress cover
The new smell lasts for days.
No included case for storage
10. Sleep Innovations Gel Memory Foam Mattress Topper
Best Cotton Mattress Pad
Instantly improve your support. Premium memory foam conforms to your body shapes for superior personalized comfort. It distributes body weight evenly building a pressure-free environment that eases tension. Transform any old bedding into a cozy night's sleep.
You can add the support you want and the comfort you need with this 3-inch mattress topper. Gel memory foam cushions and releases pressure points, so you experience less tossing, less turning, and extra deep sleep. It also enhances airflow and breathability to prevent you at a comfortable temperature all night long.
Construction
It is resistant to dust mites and naturally antimicrobial. The Temperature-smart memory foam responds to body heat and movement, reshaping to distribute body weight and relieve pressure points to improve circulation. The mattress never needs turning. It conveniently arrives tightly packed in a portable box.
Remove from packaging within 72 hours to maximize expansion. You can sleep on it the same night it is unwrapped, however, allow 48 hours to return to its original shape fully. Vacuum sealing sometimes traps odors. After unwrapping, air for a few hours to eliminate trapped odours. Due to machine-cutting manufacturing processes, there may be slight variances in the dimensions of this product.
Top Features
Add Instant Comfort For A Deeper Rest That Soothes And Refreshes. Toppers Can Increase And Extend The Life Of Any Mattress
Sleep Better And more As Memory Foam Cradles Your shape To Relieve Pressure And Provide All-Night Support
Cooling Gel Memory Foam Lessens Heat And Improves Airflow For A Cool Feel And Stimulating Breathability
All Sleep Innovations Foam Is Proudly Built In The USA And Contains Good, Safe Materials. fittingly Vacuum Packed For Shipping, Easy Handling, And Fast Set-Up
This Topper Appears With A Limited 10-Year Warranty, So You Can Rest Easy Knowing Your Good Sleep Is Protected
Pros
Premium memory foam including cooling gel for optimal support & temperature
The reversible pattern between cradling or massaging comfort with enhanced airflow
Evenly distributes weight to reduce painful pressure points
Helps smooth tired muscles & relieve back pain
Extends mattress life
Stretch to fit skirt keeps topper in place
Cons
Stomach sleepers might find this too soft.
Best Mattress Topper Final Verdict
To conclude, the choice of the best mattress topper will be predicated on many different factors, each of which is quite substantial. Eventually, though, you would have the last word. It is up to your individual preferences to make sure that you get an appropriate answer, which will accommodate your sleeping habits.
We've walked you through a few different best mattress toppers, and we've tried to keep things versatile to surround the differentiated demand. Hopefully, you will find value in the preceding, and it would help you make the right call without losing a tremendous amount of time in the process.
Who Should View a Mattress Topper?
A mattress topper is usually most suitable in the following situations:
The mattress is too hard. The topper can generate a softer, more pleasant sleeping experience for people who prefer fewer firm surfaces.
The sleeper possesses no control over the sleep covering they use. Toppers can provide higher comfort — and in some examples, support — for people sleeping in college dorms, hotels, long-term care facilities, and other away-from-home services.
The bedding on an RV bed is not satisfactory enough. RV beds often feature cheaper mattress designs that offer minimal comfort and support, and toppers can significantly optimize those sleep surfaces.
The sleeper is staying at the various residences. Toppers are absolute for guest beds, sofas, and different sleep surfaces usually reserved for overnight guests (and may not be as satisfactory as the guest's primary bed).
A couple has different comfort inclinations. In the vacancy of a dual-firmness mattress, a topper can restrict one side of the mattress for couples who prefer other sleep surfaces.
Buyer's Guide For Mattress Toppers
Next, let's look at some of the critical factors to keep in thought when shopping for a mattress topper and scanning different types, brands, and models:
Material:
Different mattress topper materials contribute to different comfort experiences. Memory foam and latex conform approximately to the sleeper's body for improved spinal alignment and pressure release. Wool and feather toppers do not work as closely, which creates less resistance for people walking on top of the mattress, and they likewise sleep moderately more undisturbed. Shoppers should research each mattress topper type's features as they relate to their sleep needs and choices.
Thickness:
Best Mattress toppers may measure everywhere from 1 to 4 inches thick. The thickness of a topper should compare to the mattress surface. If the mattress is too rigid for the sleeper, then a thicker topper will be needed to adjust the comfort level effectively. Thinner toppers may be proper when minor changes are required. It's essential to note that denser convoluted foam, memory foam, and latex models manage to sleep somewhat hotter than thinner designs.
Density:
Like depth, the thickness of a mattress topper epistolizes to other performance circumstances. High-density memory foam toppers, for instance, allow better edge support and conform more like low-density foam toppers; though, high-density models also tend to sleep hotter, create more odor, and not be as good for sex.
Firmness:
Generally discoursing, firmer toppers are ideal for sleepers who obtain their mattress too soft, while softer toppers work best on overly compact surfaces. However, a topper can also improve the firmness of an older mattress. For example, a medium-firm topper used on top of a medium-firm bed can improve to preserve the original sleep surface while maintaining the sleeper's desired firmness level.
Durability:
even though lifespan varies by model, most latex, memory foam, and wool mattress toppers are considered relatively durable and will perform for several years without excessive sagging or indenting. Feather and fiber toppers, on the other hand, tend to have below-average durability.
Motion Isolation:
Toppers constructed of foam or latex tend to absorb motion and isolate them into certain mattress areas, reducing sleep disruptions. Feather, fiber, and wool toppers offer minimal motion isolation by comparison.
Allergy Potential:
Some topper materials, such as latex or feathers, may trigger individual sleepers' allergies. Other topper materials, such as fibers and wool, are hypoallergenic and should not cause allergies to flare up.
Frequently Asked Questions Best Mattress Topper
What density features should I look for in the mattress topper?
Purchase a mattress topper that possesses high-density foam. The higher the density, the more reliable the foam will maintain your body. Anything over a 5-pound density is deemed high quality.
What thickness is best for a mattress topper?
Choose a memory foam bedding topper that is thick enough to provide plenty of comfort. Three inches is regarded perfect for average-sized people, although you can acquire foam mattress toppers following 4 or 5 inches thick if you believe you require the additional support.
What should I ken about the firmness of mattress topper?
Memory foam mattress toppers are presented with a number that represents how firm they are. This number is separate from the density rating. The softest toppers own the lowest numbers, and the most athletic can reach a rating of 20. Most people favor a medium-softness ranking of about 12.