In these difficult times, having a reliable home backup power supply is a must. Investing in the best home generator is one of the smartest decisions you can make now. While it may be a rare occurrence, blackouts and power outages can happen, leaving homes in the dark for hours or even days. That's why it's essential to purchase a home generator: a dedicated power generator that can kick on seconds after the main power goes off with an automatic transfer switch.
Generators between 5,000-10,000 watts can power small devices, lights, and a couple of appliances, while 10,000-20,000 watts require more instruments or whole-home power supplies. The more you want to power, the more watts you will need. With that in mind,
Best Home Generators
here are the best home generators
Jackery Portable Solar Generator
DuroMax XP12000EH Portable Home Generator
Pulsar G12KBN Heavy Duty Dual Fuel Generator
Generac 7127 iQ3500 Portable Inverter Generator
Westinghouse WGen7500 Portable Generator Remote Electric Start
WEN 56380i Super Quiet Portable Inverter Generator
Champion Power Equipment 100402 Portable Inverter Generator
DuroMax XP5500EH Fuel Portable Generator
Generac 7117 Gp2200I W 50St Inverter Generator
Westinghouse iGen2200 Super Quiet Portable Inverter Generator
"The day when we shall know exactly what electricity is will chronicle an event probably greater, more important than any other recorded in the history of the human race. The time will come when the comfort, the very existence, perhaps, of man will depend upon that wonderful agent" —Nikola Tesla
Our Recommendation
1. Jackery Portable Solar Generator
Best Portable Generator For Home Power Outage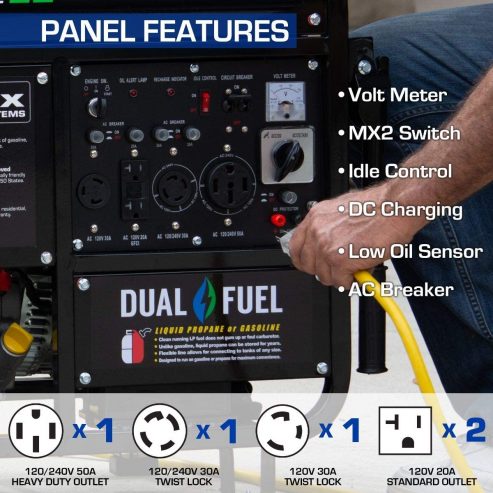 Jackery Power Outdoors, which makes the Jackery Explorer 1000, was founded in 2012 in Silicon Valley. The founder was a previous Apple battery engineer. They claim to be the first company to create a portable power station with a lithium battery in 2015.
Design:
The Jackery Explorer 1000 is enormous, the most prominent "portable battery" we've reviewed so far. Of course, comparing it to the Anker Powerhouse 200 is like comparing apples to watermelons, as the difference in power is quite significant. Fortunately, the Explorer 1000's size belies its true portability.
To be clear, the thing is heavy, which 22 lbs. (almost 10 kg) is heavy to be exact. It's not something you'll want to carry around a lot, especially not like a flashlight despite the bulb's almost puzzling location on the front. That said, the Jackery Explorer 1000 is lightweight compared to its peers in the 1000W department, some of which weigh 38 to 40 lbs.
That makes the Explorer 1000 a wee bit portable, something the built-in solid carrying handle does help. Jackery chose to use lightweight components and materials, like the plastic chassis that encloses the power station. It still feels solid, more like industrial plastic, but it's always something to keep in mind when you take it on the road.
Power Outlet:
The Explorer 1000 is a powerhouse if its name didn't already give that away. With a 1002W battery (21.6V, 46.4 amp), it can even power a home refrigerator when the lights suddenly go out, as long as it operates below the 1000W mark. You can even connect as many devices as you want, just keeping in mind the total power consumption.
Indeed, you'll be able to connect as many as you want, well, almost as many as you want, thanks to the plethora of ports available. You have two USB-A ports, one of which supports Quick Charge 3.0, two 18W USB-C ports, and three 100V AC outlets. Oh, yes, there's also a 12V car charger, of course. These are grouped in DC and AC outputs with a Display on top for showing input and output watts, capacity, and percentage left.
These three groups are all guarded by their buttons, which you have to press to turn on and turn off. In this day and age, automatic detection should be the norm. Not to mention the possibility of accidentally pushing those buttons while the power station rocks back and forth in your trunk. Power output and efficiency are pretty decent, with a 300W rice cooker using up only 4% while in use for 15 minutes, while a 660 rice cooker used up 20% more for a more extended period.
Another modern expectation these days is USB-C power, and while the Jackery Explorer 1000 meets the bare minimum, it's precisely just that. With 18W Power Delivery, you can charge many smartphones and some tablets, but heavier computers like laptops and MacBook Pros are out of the question. Of course, there is are three AC outlets to choose from, but that does presume you have your charging brick at hand.
Charging:
Things get a bit more exciting but also slightly more complicated with optional solar charging. Jackery sells 100W SolarSaga charging panels, and you can use at most two of these at once to juice up the battery. However, you will also need to buy a separate Y-cable to connect those two solar panels to the Explorer 1000, which Jackery also dubs the Explorer 1000 Solar Generator. Otherwise, you can only join one at a time. Read our complete review on Best Inverter Generator
Solar charging is, of course, slower, with solar charging, and it also largely depends on how much sunlight is available outdoors. With a single panel, you can only get 85W on a bright and sunny day and 30W max on an overcast one. With two boards together, the output went up to 120W under the full blast of the sun. All in all, it took 6 hours to charge the Explorer 1000 from 42% to 96% with solar charging, whereas Jackery advertises around 8 hours.
Features & Specification
Clean & Quiet: Drawing energy from the sun and powering through a battery. No gasoline, toxic fumes, or noise during operation。
Convenient: With a compact, lightweight design, it's easy to carry around wherever you go.
Safe: Emissions-free energy source and reliable battery management system make it safe enough even for indoor use.
Lower Cost: Harnessing the sun's energy for free and with virtually no maintenance.
Jackery Explorer 1000 is the biggest Jackery power station and one of the most potent portable power stations. With 1002Wh capacity, 1000W rated power (2000W surge power), and multiple output charge/recharge ports, it meets the power supply needs of higher and most power electrical appliances.
High conversion efficiency up to 23%, building a Portable-Solar-Generator System and Jackery Explorer 1000/500/300/240/160 power station (sold separately). It is ideally suited for outdoor life and even unexpected power outages.
Solar charger with USB outputs:
It is equipped with a 1* USB-C output port and 1* USB-A output port, charging multiple portable devices simultaneously, including smartphones, tablets, digital cameras, etc.
Lightweight and durable solar panel with kickstand:
Foldable design with TPE rubber handles and weighs only 9.1 lbs. Convenient to carry it wherever you go. Adjust the angle with the built-in kickstand. It is made from durable cloth, zipper, and PET material, high-temperature resistant (The solar panel is not waterproof).
Pros
Relatively lightweight (in 1000W category)
Can power small refrigerators (below 1000W)
Good number USB-A, USB-C, AC ports
Competitive pricing
Cons
Slower charging at 200W max input
USB-C PD maxes out at 18W only
Manual buttons for turning on or off
2. DuroMax XP12000EH Portable Home Generator
Best Dual Fuel Home Generator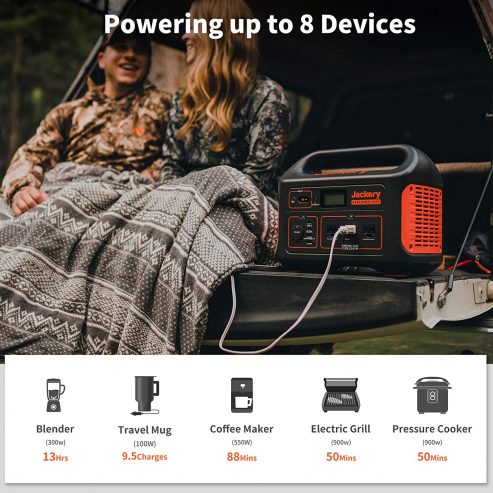 The DuroMax XP12000EH is a 12,000-watt portable generator with both a manual recoil and electrical start. It is the dual-fuel alternative to the XP12000e, which are both nicknamed 'The Beast.' This model is a heavy-duty design with a steel frame and solid fill wheels that can cross any terrain. Considering its build and extended run time, this is a good option for a worksite generator.
The run time also makes this model the right choice for households that often experience more extended power outages during extreme weather conditions. Since this hybrid can again run on propane, more affordable running costs are added than a conventional portable generator fueled by gasoline alone.
DuroMax XP12000EH specifications:
Since this is a dual fuel generator, we need to look at how it runs on gasoline and propane because there is bound to be a difference. In general, gasoline generators deliver more power than those running on natural gas or liquid propane.
That is also the case here; on gasoline, the XP12000EH has 600 watts more surge power and 475 watts more running power. However, the ability difference is almost negligible when you think about all the household devices that you can run simultaneously with this much power.
Propane is often the more economical fuel choice because it is more efficient than gasoline. However, you would not draw that conclusion if you only look at the specs.
From the specs, it seems as though the engine is more energy-efficient on gasoline because it also has a longer run time and smaller tank size compared to when it runs on propane. Combine this with the lower power delivery on propane, and you can understand why gasoline is still a popular fuel source for generators.
On the other hand, propane prices generally remain lower than gasoline prices, so lower running costs are advantageous. Plus, storing propane is much easier and more economical because it does not degrade or lose combustibility as gasoline does.
However, you don't necessarily need to choose your fuel preference with this hybrid. You can almost seamlessly switch between the options to give nearly double the total run time.
Separately the fuel options offer just a standard run time, but if you fuel up both tanks, you get a very long total run time of 16 hours before your next refueling. It offers you a lower maintenance option for a long-running dependable power source. Moving on from the fuel aspects, take a look at this model's other features. The following mentioned specs are identical to the specs of the XP12000E alternative.
There is no denying that this is not a silent generator, but with an 18 horsepower 457cc engine that runs at 3600 RPM, that is not a surprising fact. The rated noise level is 74 decibels, which is louder than the average vacuum cleaner but still surprisingly acceptable for the amount of power it delivers.
The noise reduction is a result of the oversized muffler that DuroMax installs as standard for this model. Remember that fuel-powered generators must be placed at a considerable distance from any building, so there is additional comfort in that the sound is not as audible from inside your home.
Control panel features:
Other notable features are related to its control panel. Useful aspects of monitoring are the indicator lights showing low oil and fuel levels. You can also make sure the engine runs more efficiently and quietly with a simple switch to the idle control program. The control panel's two most large spaces are taken up by the voltmeter and turning knob for the MX2 switch. Finally, each outlet and a DC protector are individual circuit breakers when charging a battery.
You will also find four types of outlets; two GFCI 20 amp outlets, one 50 amp power outlet for heavy-duty use, one 120 volts 30 amp twist lock, and a changeable 120 volts/240-volt alternative. The choice of outlets makes this a very suitable option for powering machinery and other heavy-duty use. The heavy-duty purposes shine through in the design. The wheels are suitable for any terrain without the risk of punctures, and the solid steel frame acts as a protective casing.
Carrying 'The Beast' as its nickname, this portable hybrid generator creates many expectations for its power, run time, and rugged design. It delivers in some ways, specifically the use of materials, but more intense models out there that better suit the nickname.
On the other hand, once you ignore the suggestive label, this is an impressive portable generator. It holds enough power to run your household as generally as possible during extreme weather, and it is made of high-quality materials, which make it a dependable machine.
The most significant selling point is that it can run on two fuel types, which is definitely worth the extra 100 bucks over the basic mono fuel model. Dual fuel generators give you a longer run time, which is excellent for households stuck in hurricanes.
Overall, the DuroMax XP12000EH is an excellent choice for looking for a dual fuel model for household use. Though there are customer complaints related to the wheels and shipping, there is not an alarming number of negative reviews related to the actual functioning. It suggests that this is a reliable product that will see you through the power outage, even if it lasts several days. Please make use of its versatility by actively using both the gasoline and LPG mode for powering your household appliances.
Features & Specification
Plenty of Power – With 12,000 starting watts and 9,500 running watts, this unit can handle heavy loads, from lights and a refrigerator to a home air conditioner and high amperage power tools.
Dual Fuel Technology – This generator runs on gasoline or propane, giving you the freedom and flexibility of fuel choice.
Powerful 18HP Engine – The DuroMax 457cc OHV engine is a workhorse that provides plenty of power to handle multiple jobs, from powering high voltage appliances to heavy-duty power tools.
Idle Control – Lowers the generator's RPMs when not in use, saving fuel and reducing noise—ideal on job sites where power is used intermittently.
MX2 Technology – Get the maximum power from each of the 120-volt receptacles. Choose between operating the Generator at both 120V and 240V simultaneously or at 120V only with full power. Ideal for usage with RVs.
Low Oil Shutoff – Protects your investment by automatically shutting the generator off when it senses that the oil is low.
Fully Featured Power Panel – The power panel includes a wide selection of outlets for maximum compatibility in your applications, including two 120V household GFCI outlets, one 120V 30A twist-lock outlet, one 240V 30A outlet, and one 240V 50A outlet. The panel also includes a voltmeter and 12V DC charging ports for charging external batteries.
Complies with Emissions Standards – All DuroMax generators are approved by the EPA (Environmental Protection Agency) and CARB (California Air Resources Board) and follow strict guidelines to ensure our generators are as environmentally friendly as possible.
Pros
DuroMax offers dual-fuel capabilities. Not only can this work out to be a more wallet-friendly option in terms of running costs, but it also gives you extended run time with a simple switch to the other fuel.
The sturdy design uses high-quality materials. The combination of steel and heavy-duty wheels in a cart design makes this an excellent choice for construction workers.
An unexpected plus with this power generator is the noise level. Seventy-four decibels may not be so quiet that you won't notice it, but many generators with a much smaller capacity have the same noise level, if not worse.
Very Easy To use
Variety Of Sockets
Electric start
Good value
Cons
If you run it at full load, the generator can be noisy.
The generator is also very heavy and difficult to move around.
the wheels are also not very dependable
3. Pulsar G12KBN Heavy Duty Dual Fuel Generator
Best Generators For RV
Pulsar is a popular generator manufacturer in the industry and offers home generators of all sizes to fit different needs. The G12KBN is a great example of the power and features that Pulsar is capable of providing. This generator is powered by a 457cc engine that includes an electric start for easy start-up by just about anyone. Read our detailed review of Best Solar Generator
This generator's power levels will vary depending on the type of fuel you will be using since this generator is dual fuel, hybrid generator. For gasoline, you can expect 12,000 starting watts and 9,500 running watts. For propane, you can expect 18,800 starting watts and 8,550 running watts.
Equipped with an 8-gallon fuel tank, this generator will provide an impressive run time of up to 12 hours at 50% load. This generator does not come with covered plugs, but you will get one 30A 120/240V AC twist-lock outlet, one 50A 120,240V AC outlet, and four 20A 120V AC outlets.
This generator sports plastic tires, so flat tires will never be an issue, as well as a handy voltage frequency hour meter. Pulsar has made this generator transfer switch & RV ready to provide power in just about any situation. You will also get a propane hose and a one-year limited warranty.
High Power
When using gas, it has 10,000 peak watts and 8000 rated watts, and when using liquid propane gas, it has 9000 peak watts and 7000 rated watts. No matter what type of fuel you use, the power comes from the trustworthy 420cc, 15 HP, OHV, single-cylinder, 4-stroke, air-cooled engine. It's a workhorse that gets the job done.
Dual Fuel Capability
Dual fuel offers added convenience and value. There is a large fuel tank for unleaded gasoline. If you prefer, you can use the included hose to hook up a tank of liquid propane gas. The switch and go feature lets you switch from gas to propane or vice versa while the generator is running.
It can be a lifesaver and ensures that you could run the generator for 24 hours straight or longer, as needed. Another advantage of dual-fuel capability is that it helps you straddle the line between price and convenience. At certain times, like during a natural disaster, one or the other fuel type may be harder to come by and more expensive. Dual fuel gives you options.
Operation & Transport
Ease of use is built into every aspect of this generator. At over 200 pounds, Pulsar PG10000B pretty heavy, but a wheel kit and handle are easy for even those without much strength to get around. The wheels will never go flat. Starting it up is simple with an electric push-button.
There is also a recoil starter backup if needed. Operating the controls is quite straightforward and user-friendly. An hour-meter helps you keep an eye on how much time you have left before running out of fuel.
Outlets
There are plenty of places to plug things in, so this generator will keep all of your appliances, tools, and devices running. There are:
Four 120V outlets
One 120V/240V twist-lock outlet
One 120/240V 50A RV receptacle
It's fully ready to take on the road in your RV, but it's also a good model to keep on hand in the garage or basement in case of a power outage.
Noise Level
Generally, this generator won't be any quieter than 65 DBA, and it will often be louder than 70 DBA. The manual cautions that "prolonged exposure to noise levels above 68 DBA is hazardous to hearing" and recommends using ANSI-approved ear protection to prevent hearing damage. When operating this generator at a full load, you might encounter a higher-pitched noise that is something like a whine. The whine on top of the rough roar of the machine calls for hearing protection when nearby.
Gas Consumption & Capacity
The 8-gallon fuel tank is a great selling point of this model, as it will last a long time. It is a relatively fuel-efficient model, as one tank of gasoline will get you about 12 hours of operation when running a half-load. The beauty of a dual-fuel generator is that you can use both gasoline and liquid propane.
Combining the two fuel types means you can operate the generator for a much longer period before needing to refuel. Switching between fuel types is simple and can even be done while the generator is running.
Features & Specification
12,000 peak watts/ 9,500 rated watts (gasoline) & 10,800 peak watts/ 8,550 rated watts (LPG)
Dual Fuel Capability allows you to choose between Gasoline & LPG fuel sources; great for emergencies or natural disaster as LPG may be more readily available and easy to store
The 457cc, single-cylinder, 4-stroke, air-cooled, OHV engine with electric start is protected by a durable powder-coated frame.
An 8-gallon fuel tank gives you up to 12 hours of continuous operation at half load when running on gasoline.
(4) 120V 20A AC outlets, (1) 120V/240V 30A twist-lock outlet, (1) 120V/240V 50A outlet, (1) 12V DC output provide ample space for powering appliances, tools, and other devices
Convenient drop-down handles and 10" Never-Flat wheels for added mobility and easy storage
Complete with low oil shut-off, 3-in-1 digital meter, and automatic voltage regulation for less worry and hassle
Includes propane hose & backed by a 1 Year limited
Pros
Can run for 12 hours on 50% load
The fuel tank has a capacity of 8 gallons
Gives you the power to choose between propane and gasoline
High Power for the price
RV Outlet
Effective dual fuel switch even while running
Easy to store and move around
Features various safety measures
Low oil indicators and digital meters help with the maintenance
Wide choice of outlets
Dual fuel
Excellent run time
Cons
Noisy & Shaky
Build quality not up-to-par with Honda / Yamaha
The liquid propane is not readily convertible into gas
Only one year warranty
4. Generac 7127 iQ3500 Portable Inverter Generator
Best Generac Generator
This generator is ideal for people on the go. Whether you're camping, tailgating, or working on a job site, the Generac 7127 iQ3500 3500 Watt Portable Inverter Generator will meet all of your power needs. It can even supply power to your appliances, should you lose electricity, and with a running volume of just 44 decibels, your neighbors will never even know it's running.
The Generac iQ3500 includes an electric start powered by a built-in battery. It has one user-friendly dial to make start-up, running, and stopping this generator easy enough for anyone to use. Unlike other generators, there is no confusing multi-step process to get this machine up and running.
Design:
The unit is fully encased in steel housing. The overall design of this unit looks and feels rugged. It looks good too. A durable steel enclosure, clean inverter power, and easy portability make this the ideal generator for job sites and recreational activities.
The IQ3500 has a 109-pound dry weight. It's not light but not heavy when compared to others in its class of generators. The IQ3500 comes with two carrying handles on either side top. The size and weight make it not so easy to move around. The 2.6-gallon fuel tank gives the iq3500 a very nice 8.9 hour run time.
Control Panel:
The control panel of the IQ3500 is well laid out and easy to operate. Turn the big orange dial to run, or maybe choke, then run if it hasn't been run in a while. Pull the start cord or push the red start button. The IQ3500 has two 20 amp 5-20R outlets, 2 USBs, a 1 30 amp L5-30R outlet, and a 25 amp connection point for paralleling two Generac's together for power outputs.
The LCD screen is nice and can scroll through wattage output, estimated runtime left, engine hour meter, and fuel level. While it is nice, it has a fuel gauge, but it is not easy to find or see. In looking into the Generac IQ2000, that unit has bright green dial style LED lights to display fuel level. It can easily be seen from a distance or even from inside, which is super friendly.
Setup:
The IQ3500 is pretty close to ready out of the box. Open the front access panel and connect the wiring to the battery. Move the side panel and fill the engine with the supplied 10W-30 oil using the filling funnel provided. Fill it with gas, and that's about it. The acceptable fuel may contain up to 10% ethanol. It means you can use regular pump gas.
You will also have the flexibility to choose the running speed that meets your needs. If you want to reduce your fuel usage or maintain a lower noise level, set the knob to the lower rate. Should you find the need for additional power, a simple turn of the dial will do the trick.
Operation:
Starting the IQ3500 is easy. Two options either pull the recoil cord, which does not take a considerable effort. Or push the electric start button. This is billed as one of the quietest generators on the market and is 40% slower than a Honda. You can even engage the eco-mode, which ramps the engine down, and it gets softer. This generator is much quieter than any generator we've ever come across. Perfect for any campsite or tailgate for sure. This thing purrs along, and you hardly notice it.
Power:
The IQ3500 has two 20 amp 5-20R outlets, 2 USB plugs, 1 30 amp L5-30R outlet, and a 25 amp connection point for paralleling two Generac's together for power outputs. Being an inverter generator, you also get excellent clean power out of it. The iq3500 also has Power rush technology, which provides the unit with 50% more starting strength for starting up your equipment.
By having a Generac iQ3500 on the Jobsite, excessive cords can be eliminated, tools can be operated where they're needed, and no one needs to suffer the frustration of another dead battery. The Generac iQ3500 will charge your phone, run your fan, or power your whole camper with ease, and its quiet motor won't disturb your neighbors.
Noise level:
Its quiet inverter keeps the volume to a minimum. In fact, it's even quieter than most conversations. You can run your Generac iQ3500 without worrying about disturbing neighbors, disrupting nearby wildlife, or damaging the hearing of any of your nearby loved ones.
Value:
With a list price of $1,349.00, the Generac IQ3500 is slightly higher priced than others in the wattage output. It is super quiet, constructed very well, is a name-brand backed with an excellent three-year warranty. A generator that is 40% quieter than the competition is worth a few more bucks to us whether you are at the job site, campsite, or tailgate. The IQ3500 is a competent portable generator for most applications, and we would recommend taking a close look when you are in the market for a portable generator.
Features & Specification
Ultra-quiet: 40% Quieter than Honda with Advanced inverter technology and enclosure design provide optimal quiet performance
Ideal for work or play – durable steel enclosure, clean inverter power and easy portability make this the ideal generator for job sites or recreational activities
16% more power than Honda, Featuring power rush advanced technology.
Rated AC Frequency:60 Hz
Digital smart LCD – digital wattage meter, run time remaining display, generator status, hour meter, and fuel level
USB ports – charge mobile devices including smartphones and tablets
Electric start with power dial start/run/stop – three operation settings integrated into one simple-to-use dial (battery included)
Pros
Sleek, portable design – this generator is small enough to travel with, even when space is limited.
Lightweight – at just about 100lbs, it's one of the lightest in its class.
Reduced noise levels – never worry about hearing loss or hearing impairment with this generator.
Solid steel casing – this machine is built to last. Its solid case can withstand all the bumps that come with hard work and great fun.
Ease-of-use – no need to stress when the power goes out. The electric start and easy-to-operate dial make this generator simple enough for anyone to operate.
Easy to connect – the Generac 7127 iQ3500 even has USB ports to allow for easy charging of any electronic devices you may need.
Power – with the ability to generate 3500 watts of power and run 3000 watts, this generator has the strength to power through any task you throw at it.
Cons
Weight – while the power is great, it comes with 100 lbs. of weight. If lighter jobs are your primary need, this generator can feel a bit heavy.
5. Westinghouse WGen7500 Generator Remote Electric Start
Best Whole House Backup Generator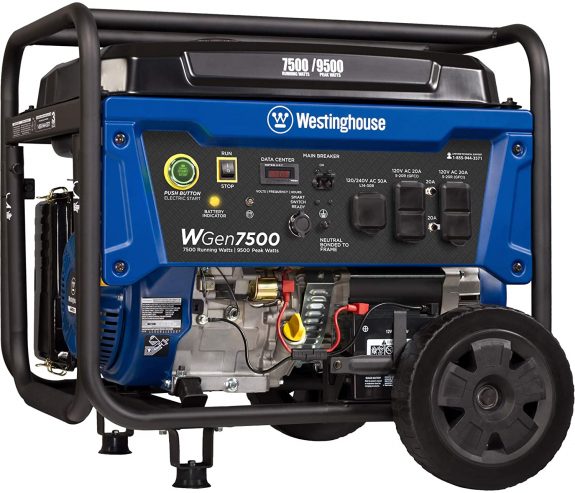 The WGen7500 is one of the highest capacity options in the WGen series from Westinghouse. The main objective of this series is to provide generators that are easy enough to use regularly at home. This means a product line with easy maintenance, intuitive handling, and simply starting for the manufacturer. The Winn series was designed with the homeowner in mind, not necessarily construction workers or commercial spaces.
Westinghouse accomplished in including all the features that push the regular person to choose their product. There are few examples of portable generators that are as easy to handle and care for. First off, each product is designed as a plug-and-go machine, ready for use as soon as it arrives. It even comes transfer switch ready with an L14-30 30A 120/240v twist lock.
Power
The Westinghouse WGEN7500 is more potent than most portable generators. With 9500 peak watts and 7500W running power, it's the perfect home backup or Jobsite generator. As one would expect from a generator of this size, it will be a heavy machine. At 192-pounds, the word portable generator may not seem all that appropriate.
It would take at least two healthy adults to lift this generator. Though it has a competent 10" wheel kit and a sturdy fold-down, loop handle with generous foam padding. So, while it may take some effort to load and offload the WGEN7500 from your pickup, moving it around once on the ground is pretty effortless.
Remote control
The Westinghouse WGEN7500 has a lot of great features. Not least of which is the mighty impressive 420cc OHV engine, with a very durable cast iron sleeve. It's a powerful machine, producing 13 HP. This engine has an electric push-button starter and a recoil starter as a backup if the onboard battery fails. It also has an automatic choke and remote control.
You can use a fob to start the generator from quite a distance (109-yards). It is not a wireless remote; it uses a cable to be sure of the space. The remote control is great if there's a power outage during a storm; you don't have to go outside to start the generator. Contractors will also find this to be a great advantage.
All too often, we leave the generator running when no one is using any power on site. Walking back and forth to start and stop the generator is just a waste of time. Though, leaving a generator running for no reason is an outright waste of fuel.
So the remote control can be a big money saver; you can switch the generator on or off, no matter where you are on the Jobsite. You'll be reducing your gas consumption and running hours, so you won't need to service the generator as often.
Fuel Consumption
Fuel consumption is also impressive. The Westinghouse WGEN7500 has a vast, 6.6 gallon, metal gas tank. It provides around an 11-hours runtime at 50% load. At 25% load, this is an incredible 16-hours runtime.
Calculating the fuel consumption at an average 50% load works out at 6.25-kilowatt-hours per gallon of gas. It is well above average for a portable generator. It is one of the best fuel consumption figures for any generator. The gas tank also has a fuel gauge, so you can monitor your gas usage and plan for a fuel refill.
Other Specifications
Using the Westinghouse WGEN7500 is an absolute pleasure. Also, the ease of an electric starter, with automatic choke and remote control, it has one of the most comprehensive control panels that you can get. It has a great digital display; they call it a VFT data center. It provides all your vial information: voltage, runtime, and frequency.
A principal, 2-pole circuit breaker protects the generator from an overload, and it also has an automatic shutdown when the oil level is low. It has 4X 120V, 20A outlets. Two of these are GFCI protected, meeting OSHA requirements for a job site generator. It also has a 30A L14-30R 120V/240V outlet. Overload breakers protect all the circuits, and the outlets have plastic covers that prevent damage from dust and moisture.
Features & Specification
9,500 Peak Watts, 7,500 Running Watts
Push-Button Start and Remote Start (Key Fob Included)
420cc Westinghouse OHV Engine with Cast Iron Sleeve
Two GFCI 120V Duplex Receptacles
Transfer Switch Ready — L14-30R Receptacle
VFT Data Center (Volts, Frequency, and Lifetime Hours)
EPA, CSA, CARB Compliant
Remote Start: The WGen7500 features a remote start operated by the key fob, adding to the convenience of having power wherever you need it.
Push Button Start: Starting the WGen7500 couldn't be more comfortable with our Westinghouse Push-Button Start.
Long Run Time – runs up to 16 hrs on a single tank (6.6 gals)
Outlets: Two GFCI 5-20R 120V household duplex receptacles, as well as a transfer switch ready L14-30R receptacle.
Circuit protected Low-Oil Shutoff, and more.
Safety – including overload prevention and low-oil shutoff.
Includes: Oil, Funnel, Tool Kit, Manual, and Quick Start Guide.
3-Year Warranty. All Westinghouse Portable Generators come with a 3-Year Residential Warranty and Lifetime Technical Support.
Pros
Electric start with remote key
Comes with 7500 running watts and 9500 peak watts
Features Two GFCI (Ground Fault Circuit Interrupter) 5-20R 120V Household Duplex Receptacle and One L14-30R 120/240V Twist-Lock Receptacle.
Long run time
Easy to assemble and use
Excellent Value
Excellent fuel efficiency
Durable and easy to maintain
3-year Warranty and Excellent Nationwide Customer Service and Support Network
EPA, CARB, and CSA Compliant
Transfer switch ready
Easy maintenance including an automatic low-oil shutoff
Low noise level
Cons
Heavy
The handle is a bit awkward and flimsy.
Not a dual fuel machine
Not so quiet
6. WEN 56380i Super Quiet Portable Inverter Generator
Best Propane Generator For Home Use
The WEN 56380i Super Quiet 3800-Watt Portable Inverter Generator is one of the most silent generators you can buy today. If you're searching for something that won't deafen you or your family on camping trips or RV trips, this is the inverter generator you want to purchase.
On top of that, the WEN 56380i Super Quiet is EPA III and CARB, the California Air Resources Board, compliant. It means you don't ever have to worry about any adverse effects caused on the environment, including the air quality while running this generator.
It also runs on gas, offers 3800 surge Watts and 3400 rated Watts for all your needs. It has a half-load run time of 8.5 hours. It also includes two three-prong 120V receptacles, one AC 120V NEMA TT-30R RV receptacle, one 12V DC receptacle, and one 5V USB port. It offers clean energy for all of those outlets, meaning you don't have to worry about what may be going into your appliances and electronics.
Energy consumption
You want to know how much energy is being put out and how much is being put in. In this cause, the energy put in is the gas. It holds 2.2 gallons, a decent amount of space for a unit this size. It will help you from having to run back and forth, filling it all the time. The 2.2 gallons will last you 8.5 hours on a half-load of energy output. It means a full load would take 4.25 hours to drain the tank.
Power
The unit puts out 3800 surge Watts, and 3400 rated Watts, as mentioned before. It is perfect for tailgating and going camping, either in an RV or not. The engine is 212 CCs and an "air-cooled by 4-stroke air-cooled OHV," as the company puts it. It keeps the engine from overheating and keeps it quiet, which you can read in-depth about in the following section.
It offers outlets for various things, as we already covered, but how safe is it for you to plug your phone into a generator that can put out that amount of energy? This one limits total harmonic distortion, meaning it's safer for smaller electronics. It only allows 0.3 percent at no load and less than 1.2 percent at full load.
Noise level
The most significant selling point of this generator is the near silence it produces. At 22 feet from the generator, the noise is only at 57 DBA while running a quarter load, a much lower amount than the typical generator of this size.
How loud is that? It's about as loud as a typical window air conditioner unit or everyday conversation. It means it's easy to ignore, leaving you able to enjoy a conversation with someone else or have a peaceful sleep in your RV.
This generator is so quiet; people will take them on hunting trips. It used to be that you had to sit and freeze in your duck blind, but now you have heat without scaring away your prey. It's also great for small music set-ups, as it won't clash with your music as you play.
Fuel Shut-Off
Fuel can build up and form blockages inside the carburetor when your generator suddenly shuts down. Stagnant powers inside the carburetor will only build up and gum your carburetor, causing engine problems and eventually failures. It requires expensive maintenance to fix, which not only means more money but will take a while if you have to take it to the shop.
The fuel shut-off feature automatically shuts off the fuel flow, forcing the generator to use the fuel already in the carburetor instead of allowing any more to come into it. It cuts down on the amount of power left in the carburetor. The unit then shuts down immediately after the fuel has been cleared from the carburetor.
Maintenance:
All of this helps to minimize the maintenance you have to put into the unit, saving you money and time on parts and work, either yours or a shop's work. It can also prevent significant damages to the engine by working to keep things clear and prevent blockages. You won't have to spend nearly as much time working on this one as you would others.
Meter:
It also offers an easy-to-read meter to monitor your
Voltage
Wattage
Frequency
Run time
Fuel supply
Manual shut off:
It also has a manual shut-off switch for any immediate shut-off needs you may need. This isn't to be used all the time, but in emergencies, you're covered. It also has a grounding nut and circuit breakers for any of your other electrical needs.
Features & Specification
Dimensions: 23.2″ L x 18″ W x 20.1″ H | Weight: 110.8 lb
EPA III and CARB Compliant
Fuel shutoff prevents blockage and limits maintenance by using up the carburetor's remaining fuel before automatically shutting down the generator.
Produces clean and reliable power with less than 1.2% total harmonic distortion, creating safe electricity for your sensitive electronics and appliances.
The keyless electric start lets you turn on your generator at the press of the button. Turn the knob to the start position and press the orange ignition switch to start your generator quickly.
The engine operates at an extremely quiet 57 decibels at quarter load, more peaceful than a window air conditioner or the average conversation.
Our easy-to-read digital display puts all the information you need at your fingertips. Monitor your voltage, wattage, frequency, run time, and fuel supply.
With a total harmonic distortion of less than 1.2 percent from a right sine wave, the WEN 3800 Watt Inverter handles even the most sensitive electronics.
Our TT-30R outlet provides up to 28 amps of quiet power for your RV, while the included spark arrestor allows for use in all national parks and forests.
The lightweight design of the WEN 3800 Watt Inverter Generator, along with the built-in wheels and collapsible handle, simplify storage and transportation.
212cc 4-stroke OHV engine produces 3800 surge watts and 3400 rated watts with a half-load runtime of up to 8.5 hours
Includes two three-prong 120V receptacles, one AC 120V NEMA TT-30R RV receptacle, one 12V DC receptacle, one 5V USB port, a digital load, and fuel display
212cc 4-stroke OHV engine produces 3800 surge watts and 3400 rated watts with a half-load runtime of up to 8.5 hours
Pros
Fuel shut-off feature prevents blockages and limits maintenance
3800-Watt powerful inverter generator
Lightweight design with built-in wheels makes manoeuvring easier.
Excellent price to quality ratio
RV ready
Quiet
High wattage – ideal for larger travel trailers
Cons
Average build spark plug top
No remote start
7. Champion Power Equipment 100402 Inverter Generator
Best Inverter Generator For Home Backup
The Champion Power Equipment 100478 2000-Watt Portable Inverter Generator is ideal for camping, tailgating, powering items around the RV, or providing backup for a few basics. This unit is not recommended for emergency home backup. Weighing in at only 38 pounds, this model is one of the lightest 2000-watt inverters on the market. Learn about What is an Inverter Generator.
Thanks to Champion's innovative design, power on the go has never been easier. Power up with the reliable recoil start, plus Cold Start Technology ensures a quick start in cold weather. Including two 120V 20A household outlets (5-20R) and a 12V DC automotive-style outlet, this inverter operates at 53 DBA from 23 feet – about the same noise level as a dishwasher running in the next room.
Using gasoline, the 79cc Champion engine produces 2000 starting watts and 1700 running watts. When the 1.1 gallons of gasoline tank is full, this inverter will run up to 11.5 hours at 25% load. Connect this Parallel Ready inverter with another Champion 2000-watt inverter for 30 amps of power. The optional clip-on parallel kit integrates two inverters and has a standard 30A RV outlet and a 120V 30A locking outlet.
Confidently connect your sensitive electronics since this inverter produces Clean Power (< 3% THD). Designed for safety with a low oil shut-off sensor, this model has a 0.5-quart oil capacity. Champion's Inverter Technology includes smart Economy Mode, which can reduce the electrical load, providing quieter operation, extended engine life, and better fuel economy.
Fully assembled with a hassle-free setup, the built-in carrying handle makes transport a cinch. Buy this EPA-certified and CARB compliant inverter with confidence.
Front Panel
The front panel features two 120-Volt 20-Amp GFCI receptacles and one 8-Amp 12-Volt outlet, EZ starts to dial, ultra-quiet operation and offers 2000 starting watts and 1600 running watts (1800 starting watts and 1440 watts on propane.)
Included with the Champion 2000 Watt Generator: Propane Regulator, Dual Port USB Adapter for the 12-Volt Outlet, Oil Funnel, Operator's Manual, and the Champion 3-Year Limited Warranty. (10W-30 oil NOT included.)
The digital power panel includes a low oil level indicator and monitors power output, fuel level, total run time and fuel life, receptacle status, economy mode, and maintenance.
LCD:
Champion minimizes the hassle of refueling in the dark with Fuel Fill Assist LED, a push-button LED built right into the handle to illuminate the gasoline fill area. Operate your Dual-Fuel generator on gasoline or propane. The EZ Start Dial takes the confusion out of starting an engine, plus it allows you to switch fuels with a quick turn of the dial. Cold Start Technology ensures a fast start in cold weather.
Power
Using gasoline, the 80cc Champion engine produces 2000 starting watts and 1600 running watts and will run up to 11 hours at 25% load when the 1.1-gallon tank of gasoline is full. Using propane, it produces 1800 starting watts and 1440 running watts.
Buy the optional, space-saving ParaLINK Parallel Kit (not included) and connect this inverter with another Champion 2000-watt inverter for 30 amps of power. The optional parallel kit allows two inverters to be stacked and has a standard 30A RV outlet and a 120V 30A locking outlet.
Features & Specification
Champion Inverter Technology – Clean Power (<3% THD): Clean, quiet power for campsites, RV's, cabins & tailgating
Dual Fuel Operation: 1600 Running watts & up to 2000 starting watts on gasoline
1440 Running watts & up to 1800 starting watts on propane
Champion 80cc OHV Engine w/ Low Oil Sensor: Provides added protection to extend engine life
EZ Start Dial w/Cold Start Technology: Makes starting your generator an easy task
Allows for easier starting in cold weather
Economy Mode Switch – 11 Hours of Run Time @ 1/4 Load: Adjusts engine speed to the optimum level depending on load
Digital LED Display: Easily see how much power you're using
Let's you know how much fuel life remains (Gasoline)
Quiet – Only 53 DBA: Fully enclosed durable housing reduces sound output
Parallel Operation Capability: Increase available wattage when linking 2 Champion inverters
Requires ParaLINK parallel kit (Included)
Fuel Fill Assist LED: Push-Button design, Illuminates gasoline fill area
Stackable Design: Great for storage, traveling, and when paralleling generators
Lightweight Design w/ Built-In Carrying Handle: Makes this generator easy to move where you need it most
Added Features: 12V DC Outlet & USDA-Approved Spark Arrestor/Muffler
Also Includes:3′ LPG Hose w/ Regulator, USB Adapter & Oil Funnel
3-Year Limited Warranty & FREE Lifetime Technical Support
EPA Certified & CARB Compliant
Pros
Dual fuel inverter generators are quiet, clean, more efficient, and reliable.
They also tend to be more portable and run longer.
Their size, weight, portability, and reliability make them attractive units for RVing, tailgating, boating, home power emergencies, and more.
A significant advantage is the "clean" power inverter generators produce to run various today's sensitive electronic devices and gadgets safely.
A dual fuel inverter generator gives you the option of fuel sources to ensure a continuous power supply.
Inverter generators are also more fuel-efficient.
The engine is designed to adjust to the power load needed, so it does not continually run at full speed or use as much fuel.
Inverter generator engines are also quieter than standard generators. Their mufflered, sound-dampened engines that run quieter when they throttle down for lighter loads are typically encased in acoustic cabinets. Most emit noise between 50 dB and 65 dB.
Cons
Loud
Cannot be used as an emergency backup for home
8. DuroMax XP5500EH Fuel Portable Generator
Best Generators On The Market
DuroMax conventional generators always have the best engines because they manufacture their units rather than ordering them from a supplier.
Here you will have a 224cc engine that gives you a total of 7.5 horsepower. This engine is a 4-cycle air-cooled engine using a spark ignition system. When running at full speed, the hybrid generator will give you an engine speed of 3600 RPM with propane and gasoline.
With this power, you will have an amperage of 47.5A/18.75A with an electrical pressure of 120 volts. However, DuroMax has found ways to increase power output without increasing the voltage. And your total continuous power output will be 4000 watts, and your surge output will be 5000 watts.
This power will come in a clean harmonic distribution with an electric cycle of 60 Hz of AC. It has both an electronic and recoils starting system. The electric start switch starts the engine with a single push of a button.
Dual Fuel:
The versatility of power input can alone be a deal maker for many Americans, especially for the west coast, where power outages are most prevalent. And the hurricane-prone areas also need this fuel always to be prepared.
Hence, it would be best if you had propane, which never jams your carburetor like gasoline. It is also cleaner and less costly. However, you cannot leave gasoline as it gives you more runtime making it more efficient and putting the total cost of ownership far less than propane.
Fuel Capacity and Runtime:
For gasoline, you will have 3.96 gallons of space. With a full tank, you will be able to run the home generator for nearly 10 hours at 50% load. There is no limit set for propane, but manufacturers recommend using a 20-gallon propane tank. This tank will give you a runtime of more than 7.5 hours at 50% load. Although the runtime of propane is relatively less, it is better than most other dual fuel generators.
Outlet Configuration:
The versatile yet straightforward panel includes two duplex three-prong 120V household outlets rated at 20 amps (NEMA 5-20) and a single 120/240V twist-lock four-prong outlet (NEMA L14-30) rated at 30 amps. These receptacles are GFCI certified. You will also have 12 volt DC outlets for charging batteries. All of these receptacles come with breakers. The only thing the generator is missing is a USB port.
MX2 Power Boost:
MX2 is among many innovations from DuroMax. It doubles the 120 Volt amperage for heavy loads. It gives you double the power in the same electric pressure. However, you can also increase the voltage if you want. It enables you to use industrial machines. It is also suitable for RVs.
Security Features:
Here are the security features in this particular unit:
Surge protector
Low oil shutoff
Low oil indicator
Voltmeter
Durability and Portability:
Along with the tubular steel exoskeleton, the whole construction is made of metals. The windings are 100% copper. And all of this steel totals to about 127 pounds. But the mobility kit makes it very easy to transport the generator. It has semi-flat tires with an ergonomically designed foldable handle. All of these features make it effortless to transport the generator.
Noise:
Compared to other conventional generators, this is very quiet. The sound measures up to 70 decibels, which is excellent for a mid-range traditional generator. It is the result of a high-quality muffler located behind the structure.
Rubber mounts in the base reduce the vibration, decreasing the sound even more. You will have no problem sleeping in your RV with this generator turned on.
Oil:
You will have an oil tank capacity of 20 fl. Oz. Manufacturers recommend not to use additives or oils of 2 stroke engines. For average temperatures, use 10W-30. But if you are in freeing temperature, go for 5W-30.
Air Cleaner and Battery:
Most buyers don't give much time to these two components and buy a replacement a year or two later. But they wouldn't have to do it with this one.
The air cleaner is large and removable for cleaning. Moreover, the filter's sponge is of high quality — a 12-volt seven ah battery powers the electrical components.
Certification:
This generator was primarily designed for use in Canada. But now it is famous all over the US. And you can also buy it from all 50 states as certified by both EPA and CARB.
Features & Specification
Durable DuroMax 7.5 HP, air-cooled with low oil shutoff.
Electric Key Start for easy starting when you need it.
Heavy-duty steel frame comprised of 1-Inch steel tubing.
Power Boost Technology: Double the 120V power for Applications and RV's
Surge Arrest: Protects your generator from power surges
The generator sits on a frame with four-point isolated motor mounts for smooth operation.
Clean running propane will not gum up or damage the carburetor.
Unlike gasoline, liquid propane can be stored for years.
A flexible line allows for connecting to tanks of any size.
They are designed to run on gasoline or propane for maximum convenience.
Wheel kit w/ front handle for easy transporting.
Full power panel with engine shutoff, volt meter, circuit breaker, and power outlets.
Run Time Gasoline – Up to 8 Hours at 1/2-Load
Run Time Propane – Up to 8 Hours at 1/2-Load on 20 lb. Tank
Low oil shutoff protects the engine.
A super quiet muffler reduces engine noise.
Idle control holds RPM at a constant level even under heavy loads for fuel savings and noise reduction.
Cannot ship to California – Non-CARB unit.
Full EPA and CARB Compliance allows for operation in all 50 States.
Pros
One-button keyless electric start
Low-oil shutdown along with overload damage protection
Auto-idle control allows quiet operation at 69 decibels
9. Generac 7117 Gp2200I W 50St Inverter Generator
Best Generac Portable Generator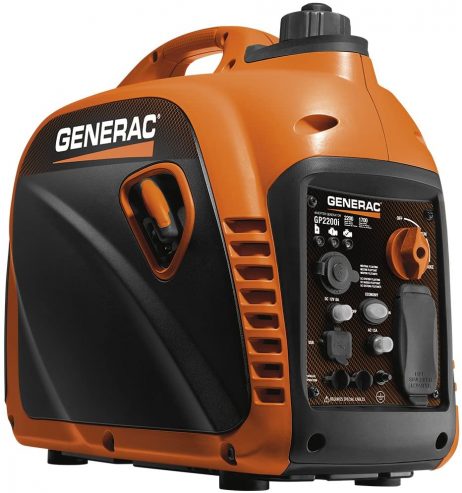 Generac is a big name in the home-backup generator space. Thus, the name Generac typically evokes images of a 25kW behemoth lurking beside your home, waiting for an errant power outage. Yet, Generac has recently expanded its range to include more mid-size and small generators. Of course, no degree of the generator is complete without the ubiquitous 2,000-watt "suitcase style" inverter generator.
There is a lot of competition in this space, with dozens of companies trying to steal the title of Honda's dominance. Standing out requires making a model that approaches perfection. The Generac GP2200i does just that.
Quiet Operation:
For many shoppers, the primary draw of a small inverter generator is the deficient noise levels. Anyone who has been around traditional generators can tell you that they can be incredibly raucous and distracting units. A clattering generator may be sufficient at an otherwise loud construction site, but that noise level isn't acceptable at a campground or while tailgating. You are there to enjoy nature and your friends, not to listen to a smoke-belching relic.
In terms of noise levels, Generac portable generators are among the quietest. The GP2200i outputs roughly 52 decibels at a 50% load. It means that this generator is no louder than a normal conversation or a TV playing in the background. If you place the unit a few feet away from your campsite, you will easily be able to forget it is even there.
Admirable Capacity:
When looking at smaller generators, seemingly minor variations in power output can significantly differ in the best generator's usability. While most generators in this class are listed generically as "2,000 watts", the actual results can be as low as 1,400 watts. A 30% cut in rated power should give anyone pause.
Generac takes a much more honest approach to their ratings. The GP2200i is rated for 1,700 continuous watts with a 2,200-watt peak. That means that you are getting the actual capacity that you paid for.
Multiple Outlets:
Another shortcoming of many inverter generators is a lack of outlets. Sure, you can always bring other extension cords or a power strip. But having to remember one more thing on your packing list is a hassle that takes you one step farther from camping or tailgating.
Thus, the generous inclusion of outlets is a nice feature on this Generac portable generator. The unit's front panel is nicely laid out and features two 120VAC outlets, a convenient USB port, and a 12VDC cigarette plug. It's a small detail, but one that makes a big difference in the generator's convenience.
Easy to Service:
A common issue with inverter generators is the difficulty of servicing them. Unlike a standard open-frame generator, inverter generators are typically fully enclosed units with plastic cladding to keep the unit quiet and clean. While this enclosure is excellent for noise levels, it can make servicing the best generator much more tedious.
Generac did beautiful job engineering around this problem. The side panels are easily removable with just a screwdriver, and you are left with wide-open access to all necessary components. Whether you are changing the oil, sparkplug, air filter, or simply giving the unit a visual once-over, it is nice to have a unit that makes maintenance simple.
Lightweight Design:
Beyond the noise level, the other key advantage of an inverter generator is portability. These models' sleek design makes them perfectly suited for tossing in the back of your car to accompany you on an impromptu picnic or other adventure. However, the weight can vary quite a bit. The difference between 45 lbs. and 60 lbs. may not seem like a lot on paper, but it can take a toll when you are the one carrying that extra heft.
That's why the low weight of this particular generator is so appealing. At only 46 lbs, this is one of the highest 2kW inverter models we've tested. There may be a lighter model out there, but it won't be by much.
Large Fuel Capacity:
Finally, this generator's fuel capacity is a big reason it got our seal of approval. It is yet one more factor where a small change can make a big difference. Most competitive models of this generator have a fuel tank ranging from 0.8-1.0 gallons. In comparison, this Generac has a 1.2-gallon tank. I'll be the first to admit that this does not seem like a stunning revelation, but the advantage becomes apparent when you think about the implications.
Compared to the smaller tanks, the fuel capacity will grant this generator a 35% longer run time. Coupled with the economy mode, this generator can run unattended for almost 11 hours, making it a class leader for runtime. If you've ever had to wake up in the middle of the night to splash more fuel in a sputtering generator, you will understand the importance of this feature.
Features & Specification
Quiet and Neighbor Friendly: Fully enclosed design dramatically reduces noise levels.
True Power Technology: Provides clean, stable power ideal for sensitive electronics, tools, and appliances
Compact and Lightweight: Makes transportation easy with a built-in handle
Economy Mode: Automatically adjusts engine speeds to save fuel and reduce sound emissions
Integrated Off/Run/Choke Knob
Simplifies startup procedures
LED Indicators: Alert you when the unit is low on oil, overloaded or ready-to-use
USB Port: For charging mobile devices
Parallel Ready: Allows you to connect two GP2200i inverter generators for twice the power
Low-oil Level Shutdown: Automatically safeguards engine from incurring damage
Covered Outlets: Provide added protection from the environment
Pros
Made in USA & good warranty
CARB Compliant
Economy mode
very light
Extremely long run time
High capacity
Lots of outlets
Good value
quiet
True power technology
Excellent warranty
Cons
The Colour is somewhat garish
Parallel kit seems refined
Complaints of engine issues right after opening
Unstable power output
It's inadequate for larger items or a backup power supply for a whole home.
Eco mode doesn't work well at higher loads.
10. Westinghouse iGen2200 Super Quiet Inverter Generator
Best Generator For Emergency Preparedness
The iGen2200 is the perfect way to keep your life running smoothly when the power goes out. First and foremost, the iGen2200's lightweight and compact design makes it truly portable. Weighing just 46 pounds, this model is much smaller and lighter than the traditional generators. It can be easily carried with a built-in suitcase-style handle that permits easy transportation. Westinghouse iGen 2200 starts quickly right up on the first pull and is very quiet in economy mode.
Second, it is designed for quiet operation. At a 50% load, the iGen2200 operates at a volume more peaceful than the average conversation, making it ideal for use at night and in sound-sensitive environments. Next, it is safe for sensitive electronics. The iGen 2200 inverter generator produces high quality and reliable energy safe to use with sensitive electronic devices, such as cell phones, televisions, and laptop computers.
Highly Portable:
The Westinghouse iGen 2200 features a lightweight, compact design that is very easy to carry. Users happily charge their phones and computers, make hot cups of coffee, keep the lights on or cook up a pot of chili con carne. Whatever else you need to do that requires electricity, you can count on the Westinghouse portable generator as a sound option.
Reliable Power Source:
As a gas-powered inverter generator, the Westinghouse iGen 2200 offers a wide variety of features that make it a strong competitor for its price range. One of the most appealing aspects related to the model is that it is not only good for emergencies but also as a trustworthy power source in it. Customers rest assured knowing they can count on the Westinghouse iGen 2200 for any occasion.
Safe to Use:
Unlike other brands that feature a converter system, this Westinghouse generator has a couple of 5-volt USB ports that can be used for a broad range of sensitive electronics with no issues whatsoever. Users appreciate that the Westinghouse iGen 2200 generator also works for bulkier appliances by connecting them with the dedicated one-hundred and twenty-volt outlet.
Furthermore, thanks to the fact that the generator has a capacity of 2,200 watts and a rating of 1800, you can safely couple several larger appliances to the generator without any problems. Owing to its impressive fuel efficiency, it's also highly praised by customers who are concerned with the environment.
Attractive Tech Features:
As for the performance of the Westinghouse iGen 2200, it has several features that caught the attention of countless shoppers. Firstly, it comes with a panel display that shows tons of useful information, such as the frequency voltage and hour meter. After that, the device is DCARB certified, meaning that it provides cleaner and safer emissions than other similar generators.
Great Value:
On top of all that, the Westinghouse iGen 2200 is a reasonably priced generator, considering the tons of quality features it offers. It comes with a neat set of advanced features catered towards providing an ideal user experience and providing excellent value for the money.
Functions and Ease of Use:
Like many portable generators, the iGen2200 starts quickly with a cord's pull and a single turn of a knob. The easy-to-use control panel allows you to navigate between the many features with ease quickly. Large fonts display each button, knob, and outlet's functions, making it an excellent choice for even the most novice generator user. The power control knob features three settings: off, run, and choke, allowing you to get to the right setting quickly.
To the left of the power control knob is a series of three LED indicator lights. These lights alert you of low oil, overload, and output readiness. Each light is essential to know the current state of your generator. Below these lights is an efficiency mode switch. Efficiency mode allows the generator to run at maximum fuel efficiency.
This best generator is also equipped with two 5V DC USB ports to power cell phones and other electronics. An attached plastic cover allows you to cover the plugs when not in use. For appliances requiring a 120V AC outlet, the iGen2200 sports two allow you to plug in multiple machines.
Westinghouse has integrated an easy-to-access 20A circuit breaker that will trip if the load exceeds specs to help prevent overloads. To finish it off, there is a bright red overload reset button to get your generator working correctly after the breaker has been tripped.
Noise level:
When measuring how loud a generator is, the industry standard measures the sound levels at 23 feet away from the generator, most portable generators operate at the level of 70-78 dB (like the sound of a standard vacuum cleaner).
With a 25% load, the noise rating for the iGen2200 from about 20 feet away is 52 dB. It is considered a very quiet generator and a great option for a generator to use in a neighborhood where neighbors can be an issue.
Gas consumption and capacity:
With a fuel capacity of 1.2 gallons, the iGen2200 will run for approximately 12 hours at 25% load. To conserve even more fuel, Westinghouse has included an Efficiency Mode to run at maximum fuel efficiency. This efficiency mode adjusts the engine RPM to the current load requirements.
This generator is parallel capable, which means that using a Westinghouse Parallel Cable (sold separately), you can connect another iGen2200 for 4400 watts of power. It is a great tool to have when powering larger items that require more wattage.
Features & Specification
Bring power to your home during a power outage or recreational activities.
Two thousand two hundred peak watts, 1800 running watts, and runs for up to 12 hours on a 1.14 gal. gas tank
Enhanced fuel efficiency – variable engine speeds allow 30% to 50% higher fuel efficiency than a traditional generator.
iGen2200 is compact and lightweight, weighing only 46 lb. and features a built-in carry handle for easy transportation
Super quiet – as low as 52 DBA with double-insulated acoustic enclosure, asymmetrical cooling fans, and low tone mufflers to reduce operating noise
Safely powers sensitive electronics such as laptop computers, cell phones, and more with less than 3% THD
(2) 120V 5-20R standard household outlets and (2) 5V USB ports with rubber outlet covers
All Westinghouse portable generators are functionally tested in the factory and may contain minimum residual oil and fuel odor.
Pros
Weighs just 46 pounds.
Features 2 USB outlets.
12 Hour Run Time @ 25% load.
1800 rated watts and 2200 peak watts at less than 3% THD – Extremely safe for all portable electronic devices.
Extremely fuel-efficient – 12 Hour Run Time at 25% Load (1.2 Gallon Gas Tank) and features "Efficiency Mode" for maximum fuel efficiency.
Parallel capable – Combine your iGen2200 with the Westinghouse WH2200iXLT, iGen1200, iGen2200, and iGen2500 to increase available wattage and amperage (requires Westinghouse parallel cord).
Three Year Warranty and Free Lifetime Technical Support at 1-855-944-3571 – EPA, USFS, and CARB Compliant (Legal for Sale in California).
Competitively priced.
Cons
Complaints of hard starting in colder weather.
No 24 Hour customer service (8 am – 5 pm only).
Final Verditc Best Home Generator
The best home generators are a great way to provide power to your home in the event of a catastrophic power failure or just an inadvertent hiccup. With the automatic switchover that these types of generators offer, you don't have to worry if you find yourself in the path of a hurricane.
If you live in an area where power outages are regular, it's high time to shop for the best home generators. Owning a perfect model in your home may seem tricky, but our guide makes it simple.
We're happy to know that you'll have no problem when making a buying decision. Always ensure to buy the generator from a reliable and reputable manufacturer. Utterly important, know that you'll install the unit outside your home.
Video Illustration